Cool, Modern Winter Ballymagarvey Wedding
27.2.20

A Cool & Super Stylish March Ballymagarvey Wedding with photos in Dublin City.
Crazy to think but this was my last normal wedding of 2020 before Covid hit!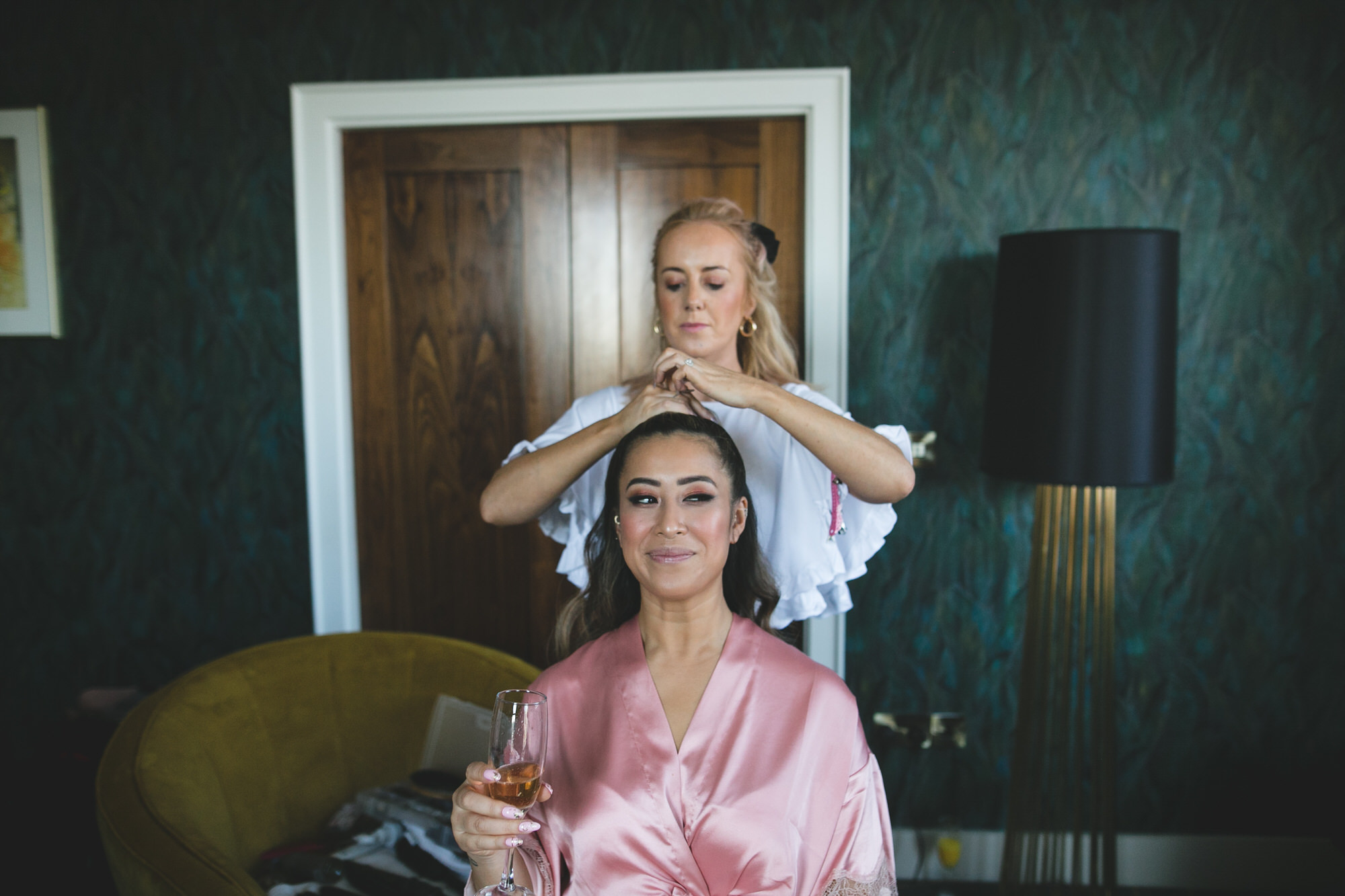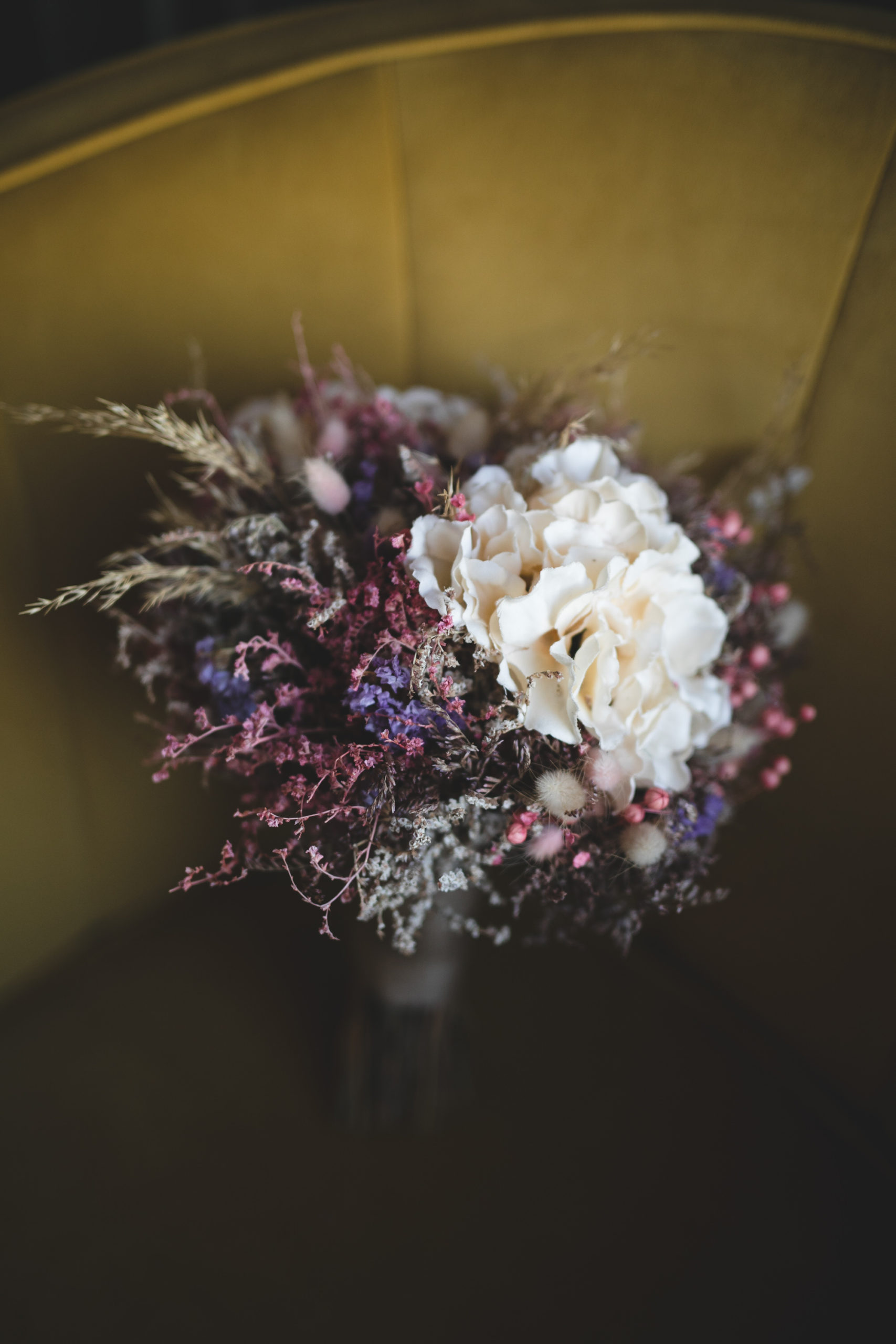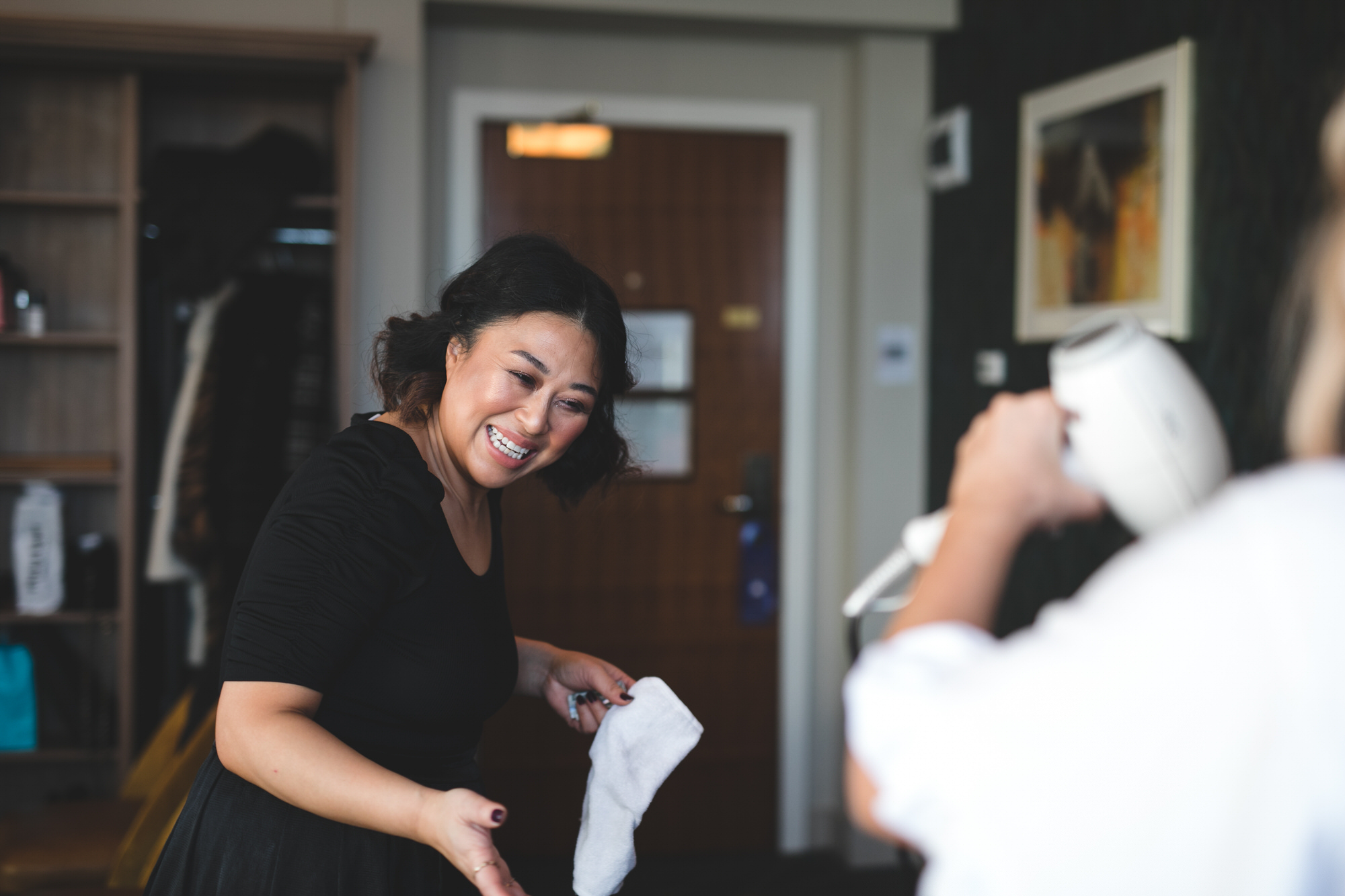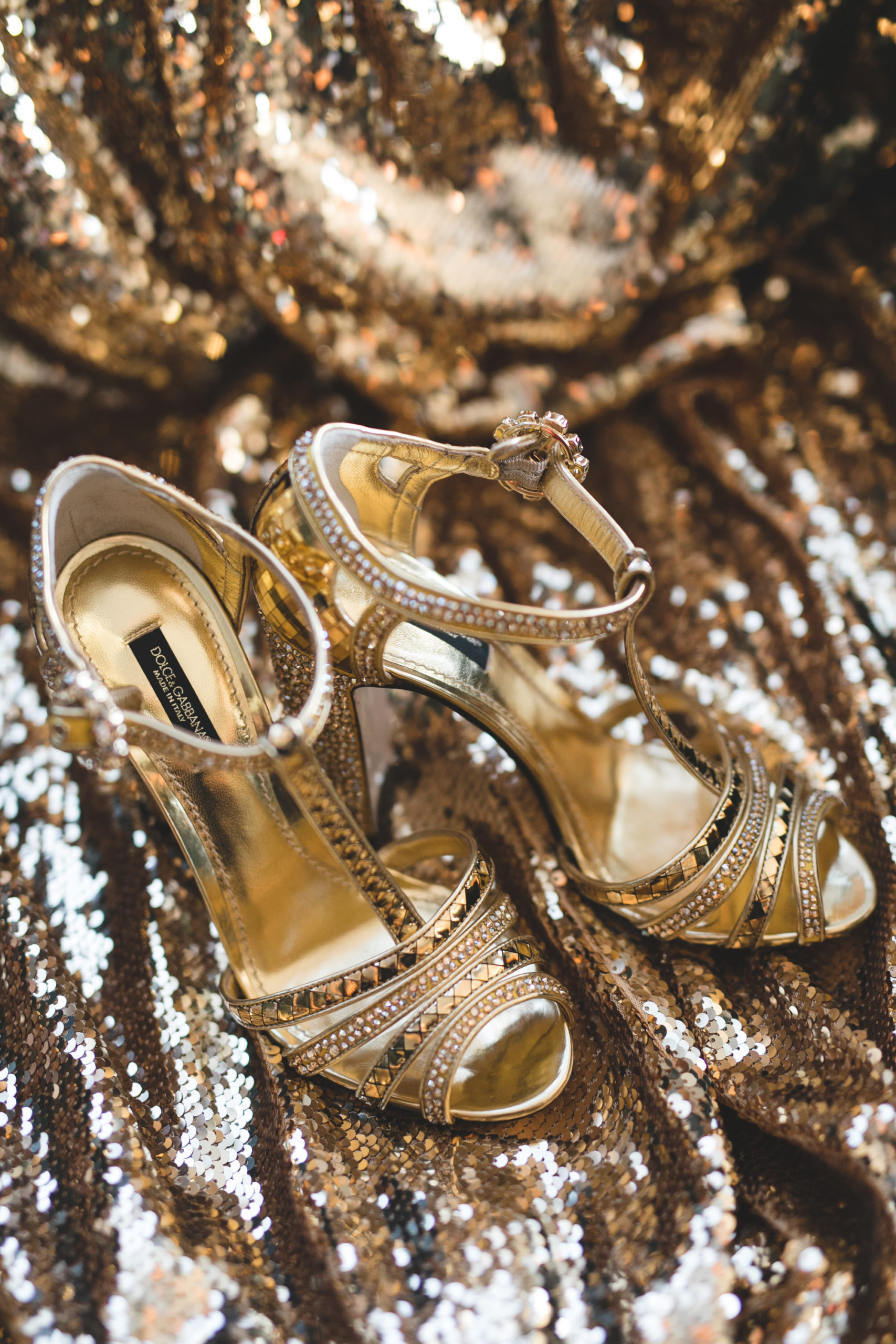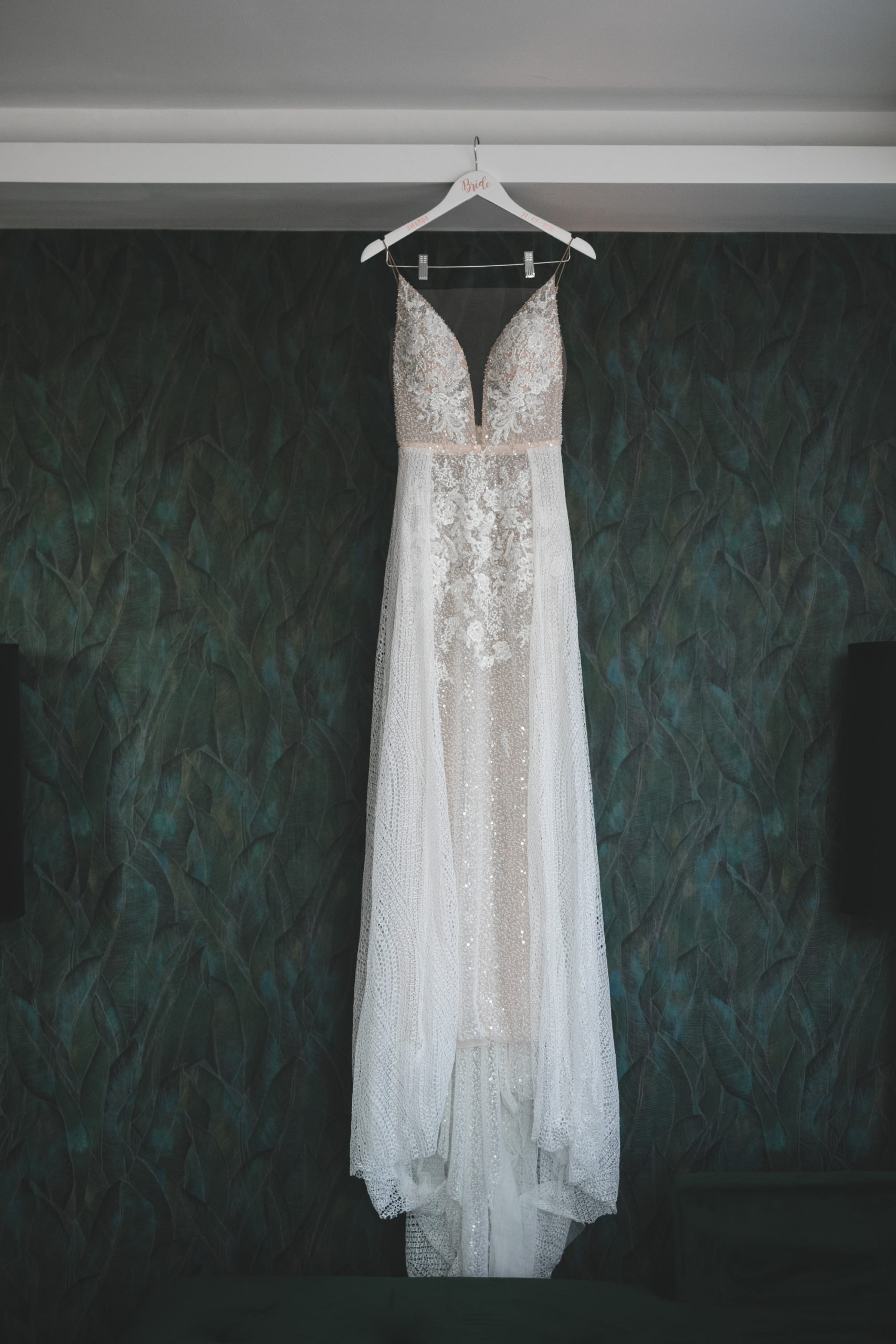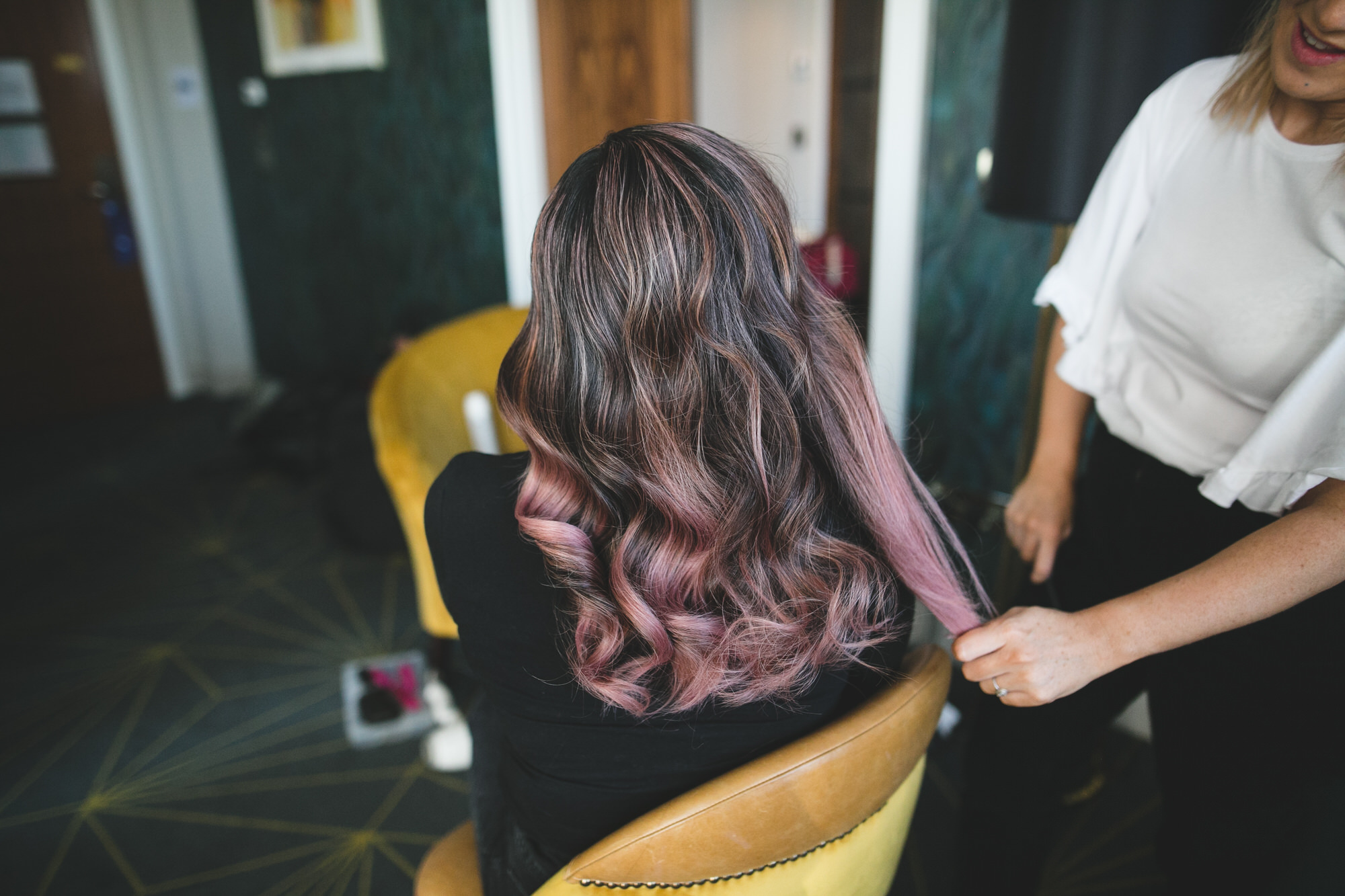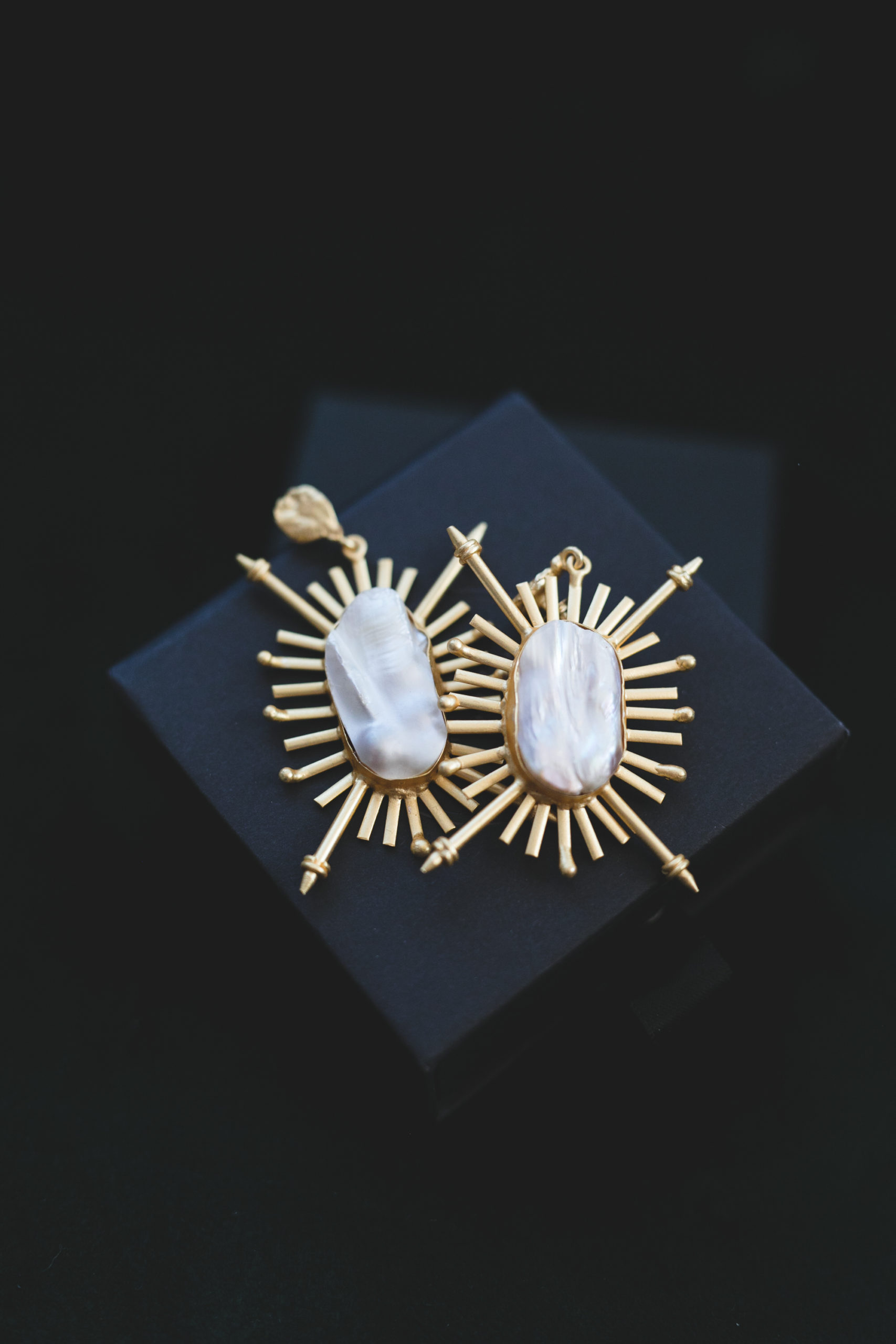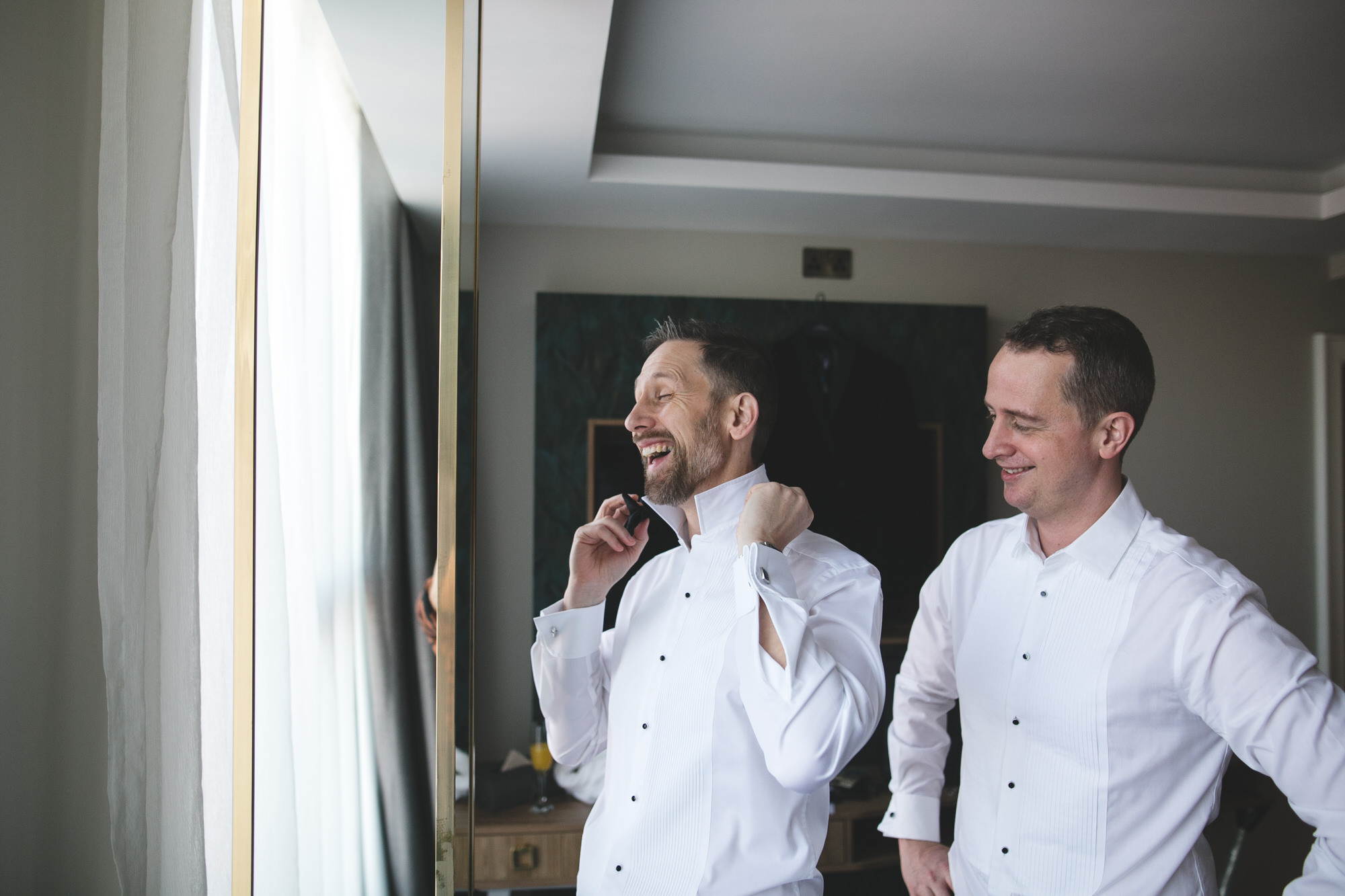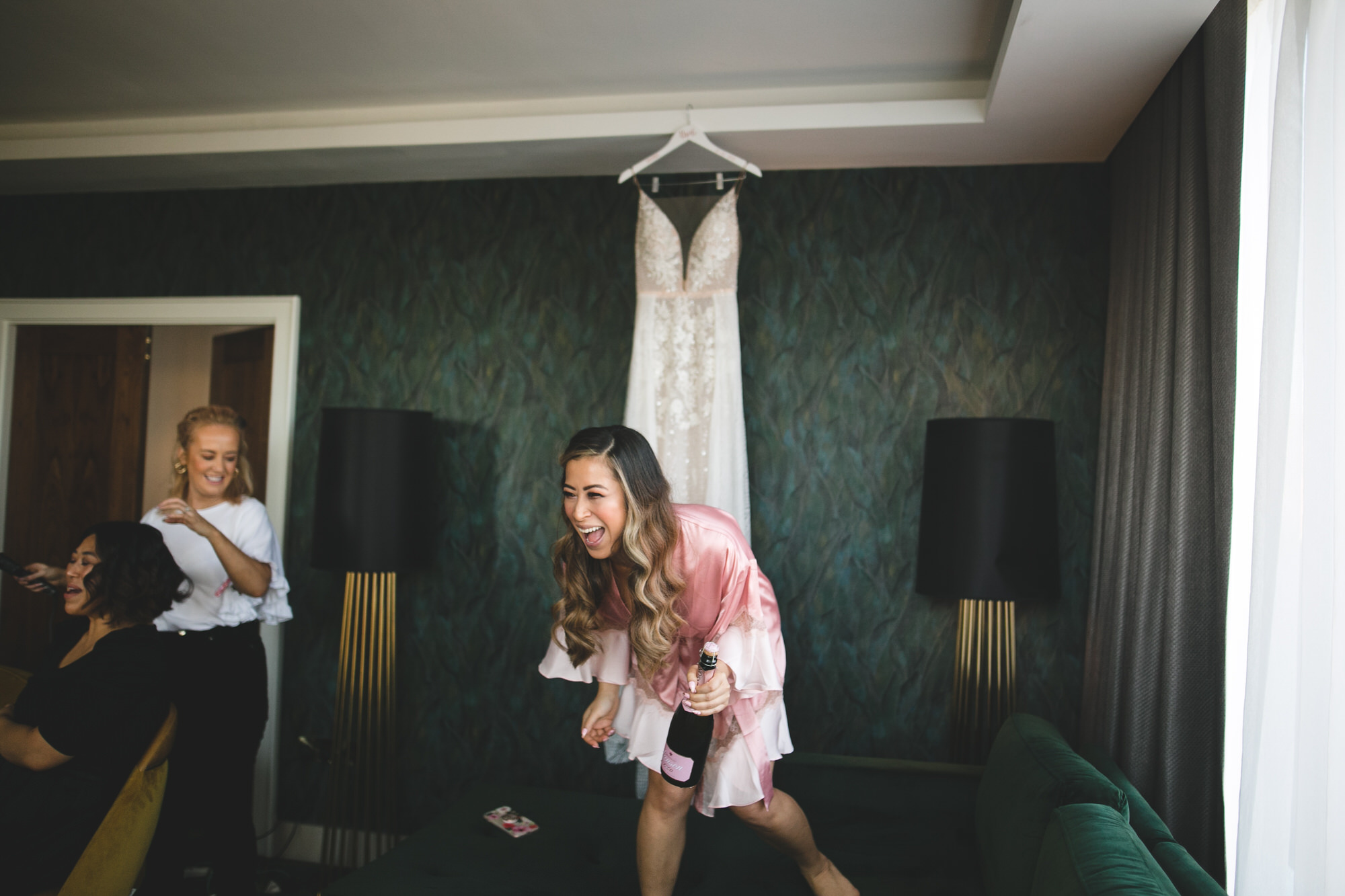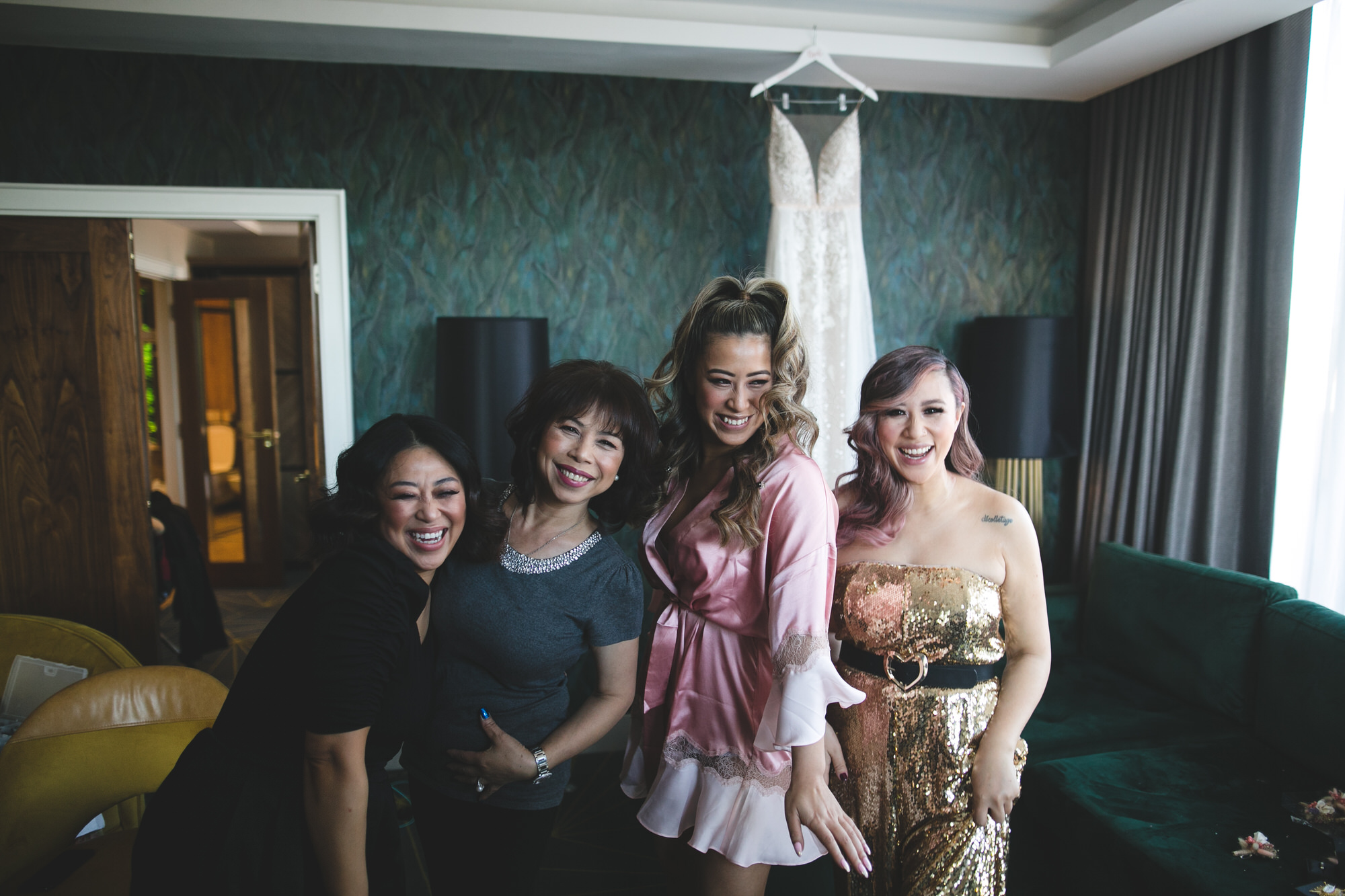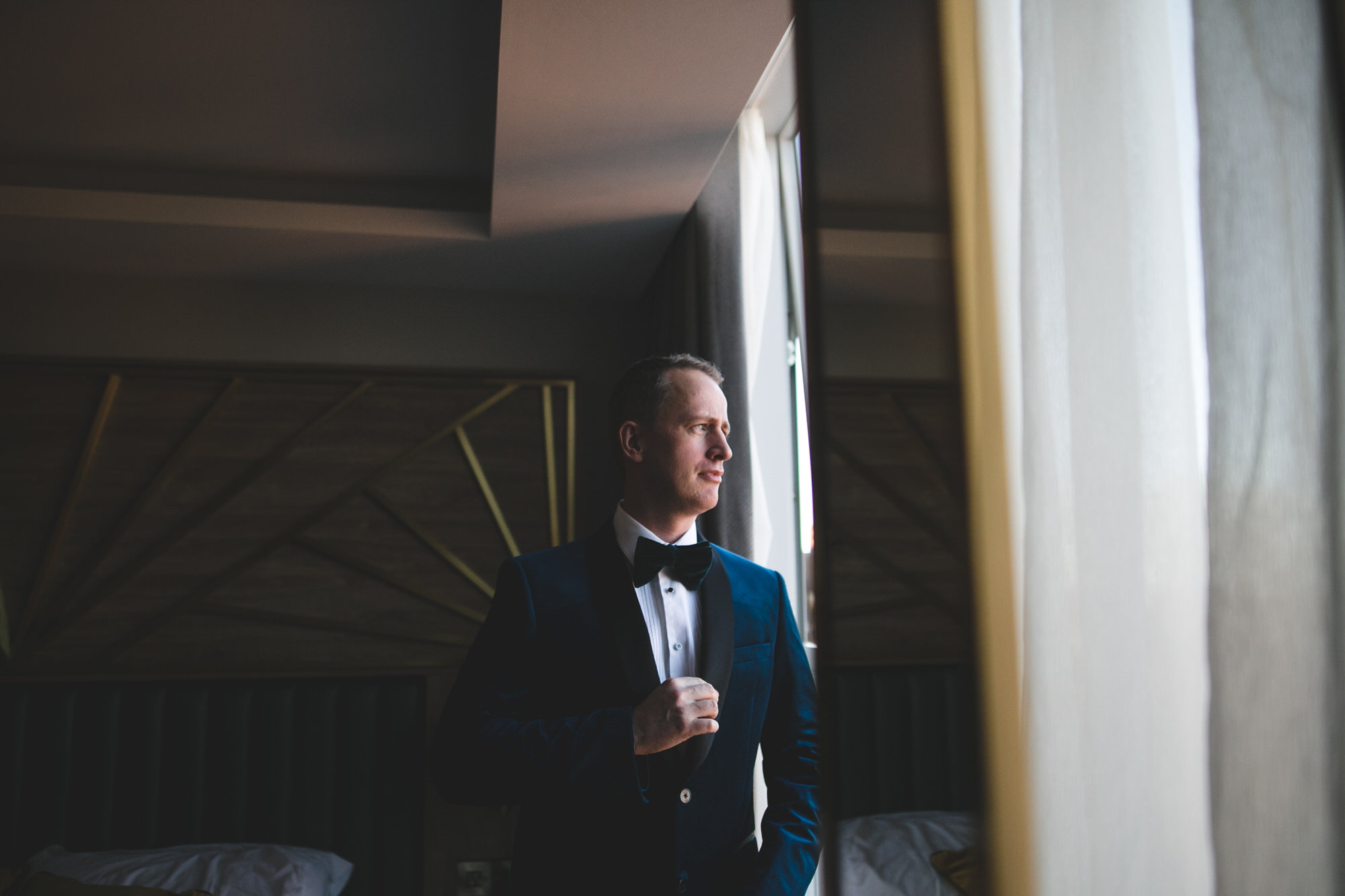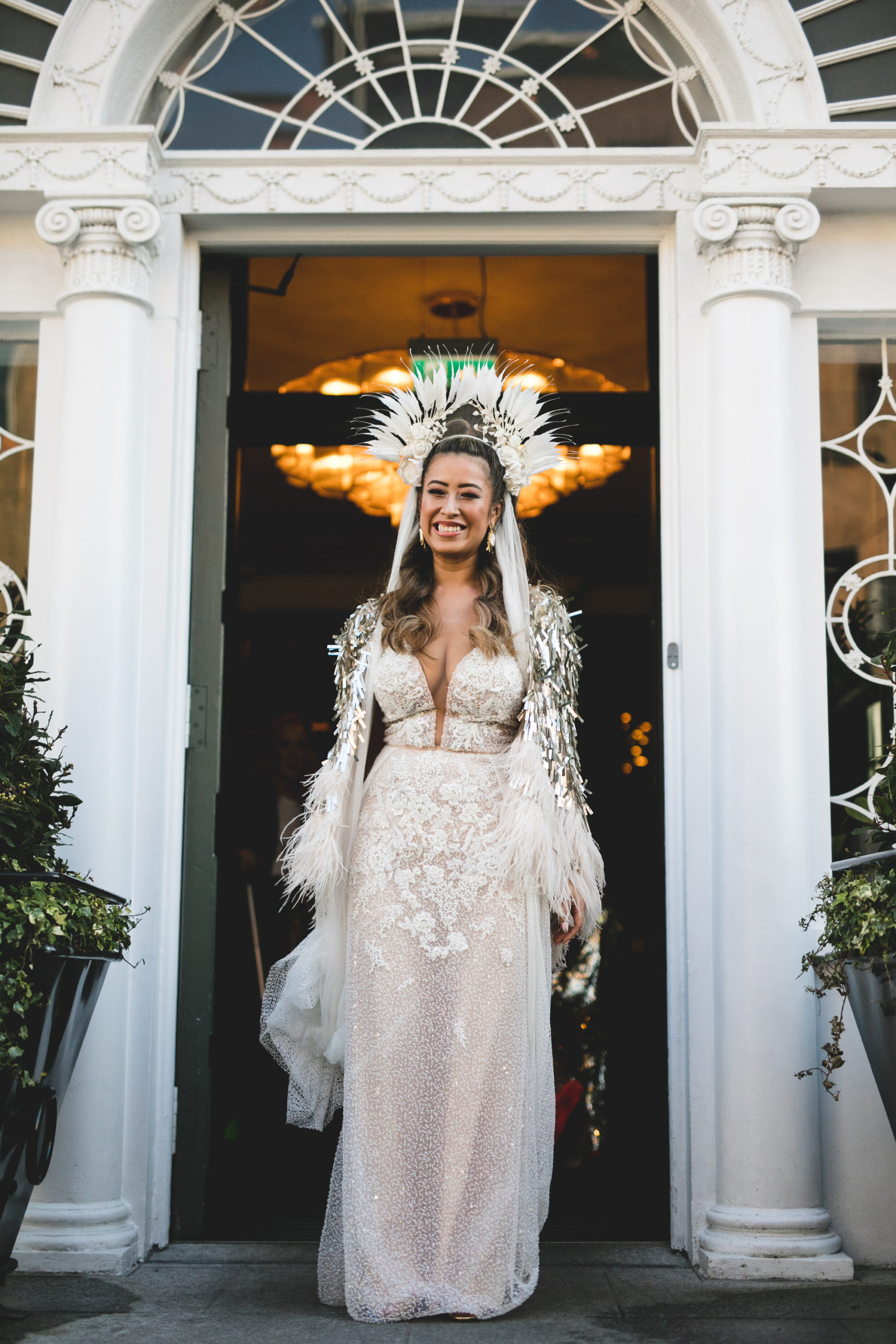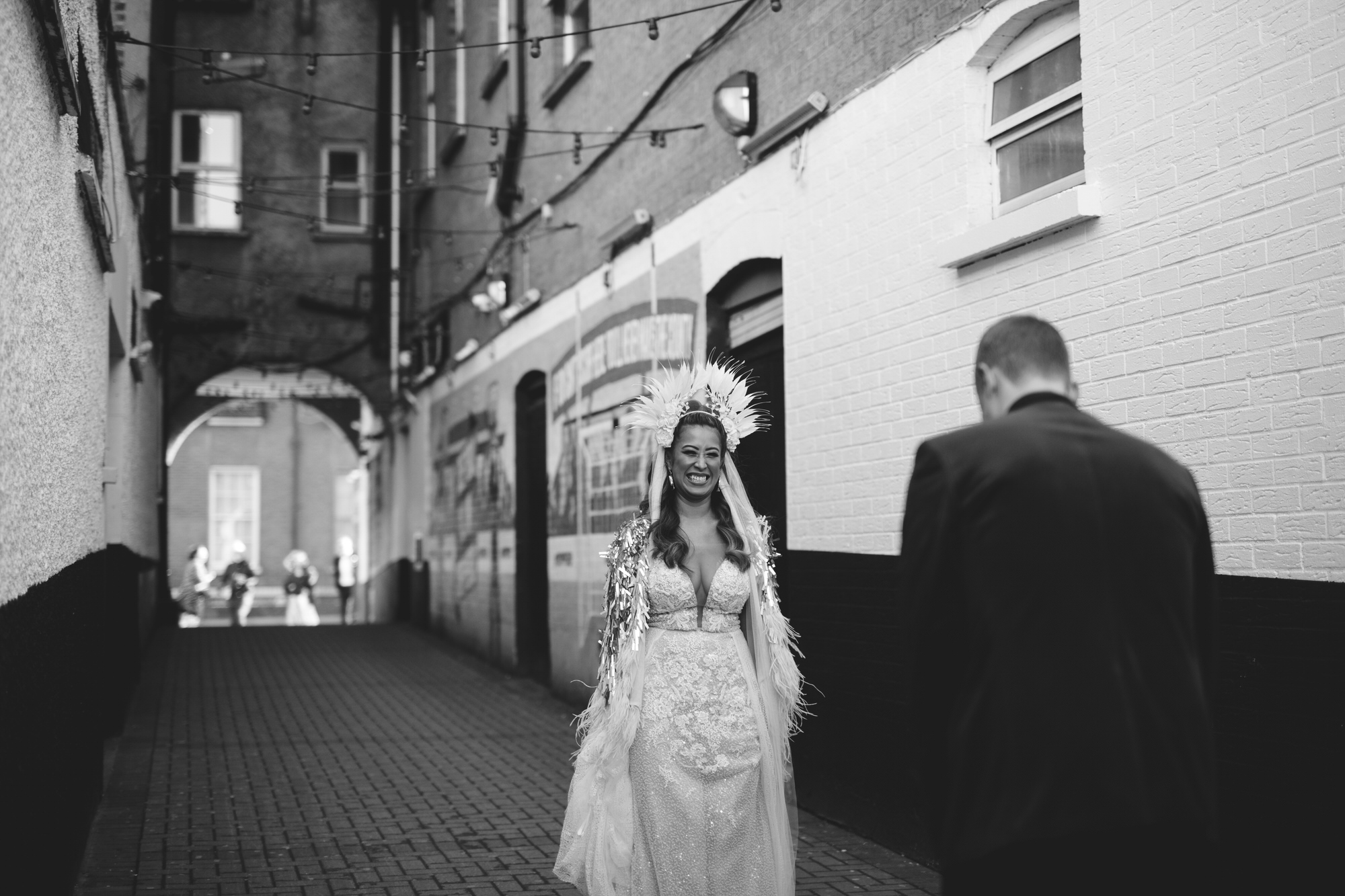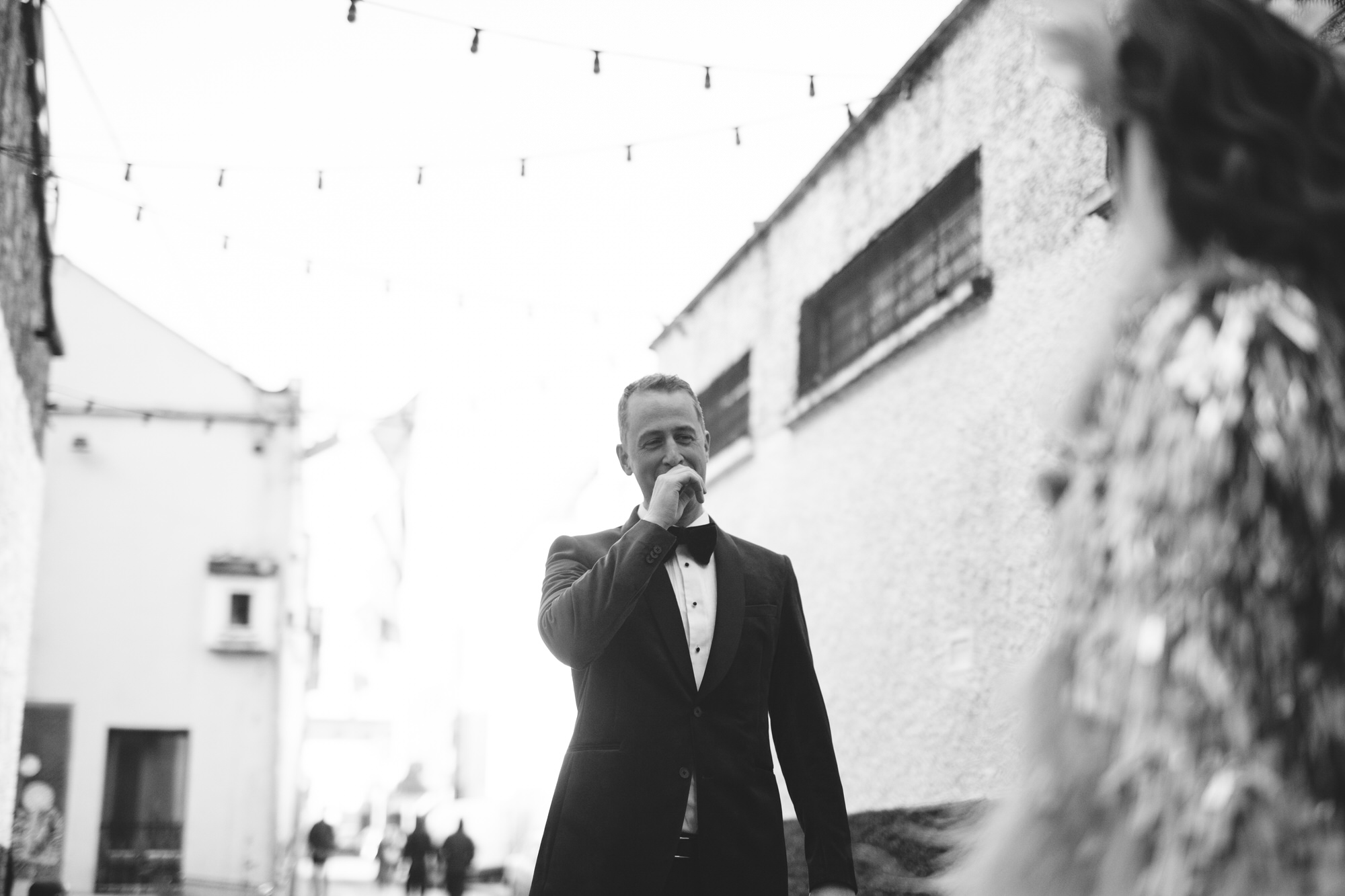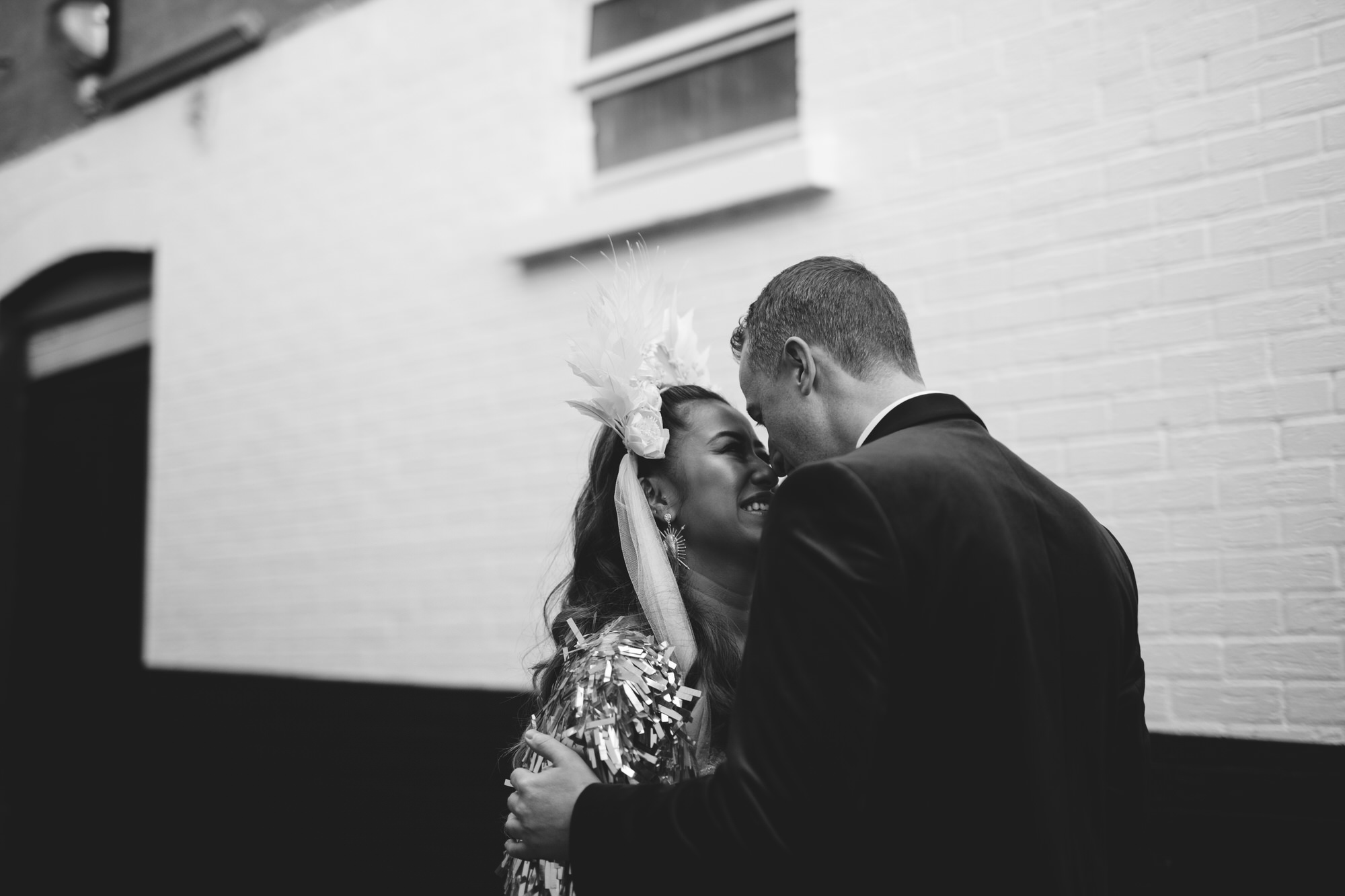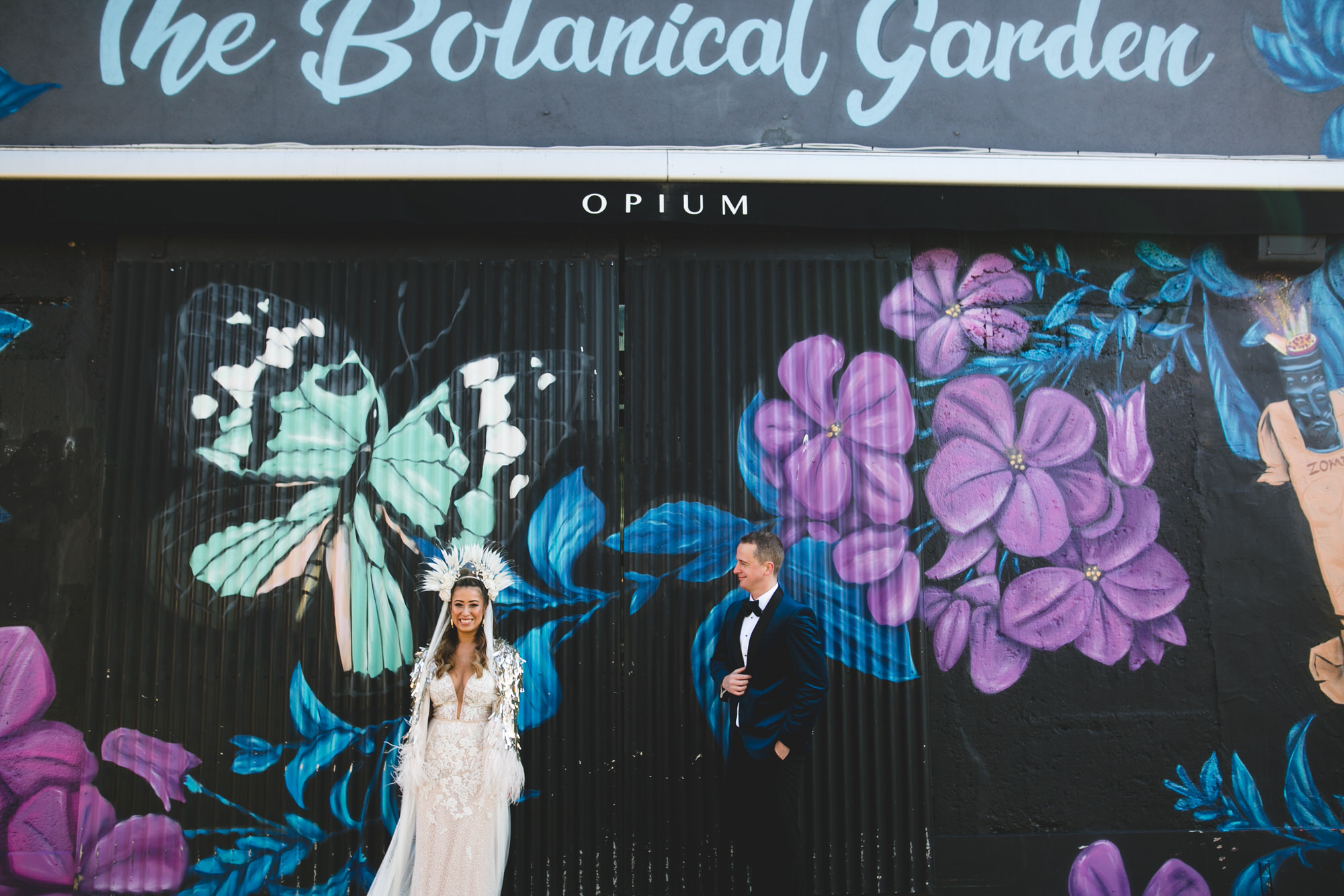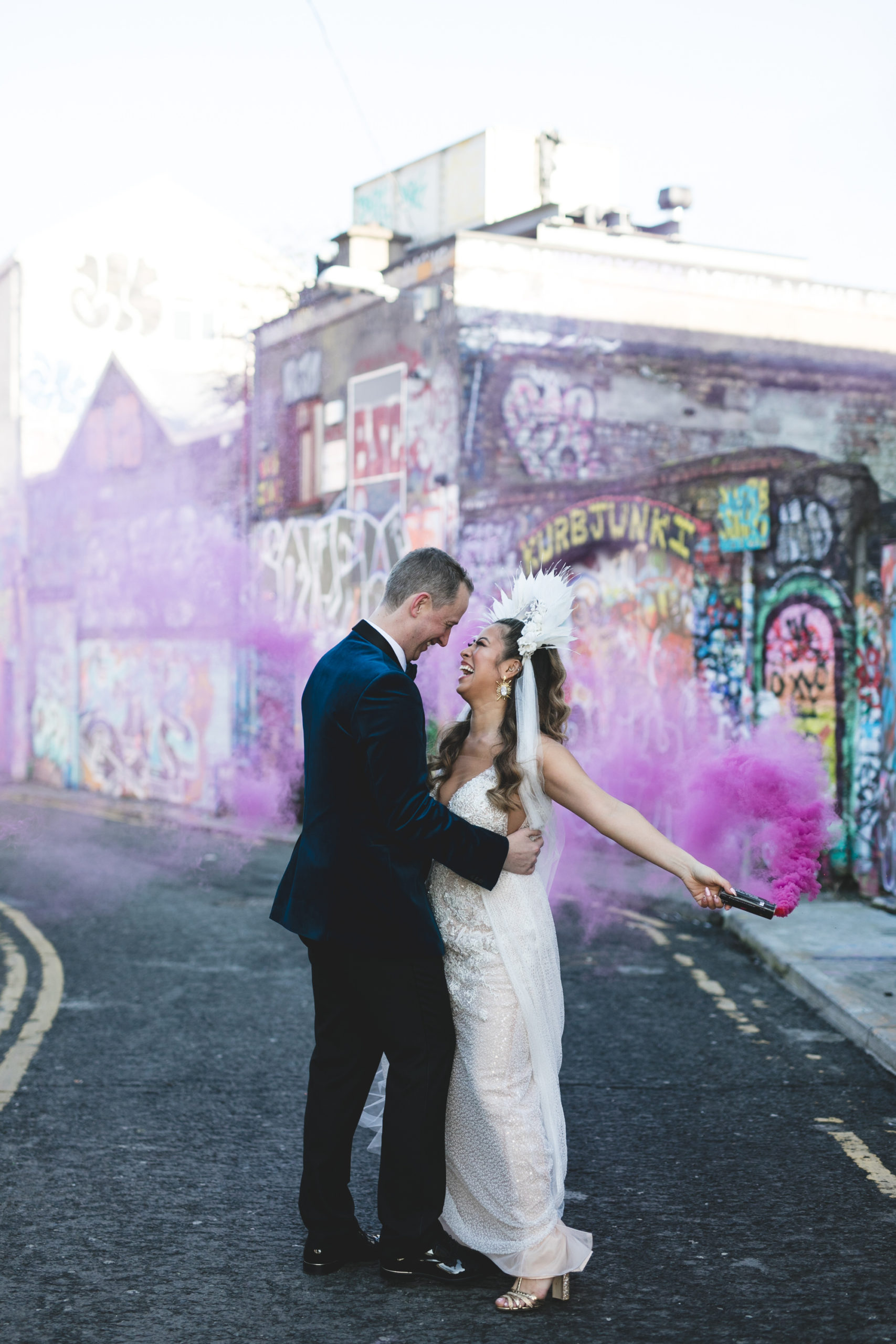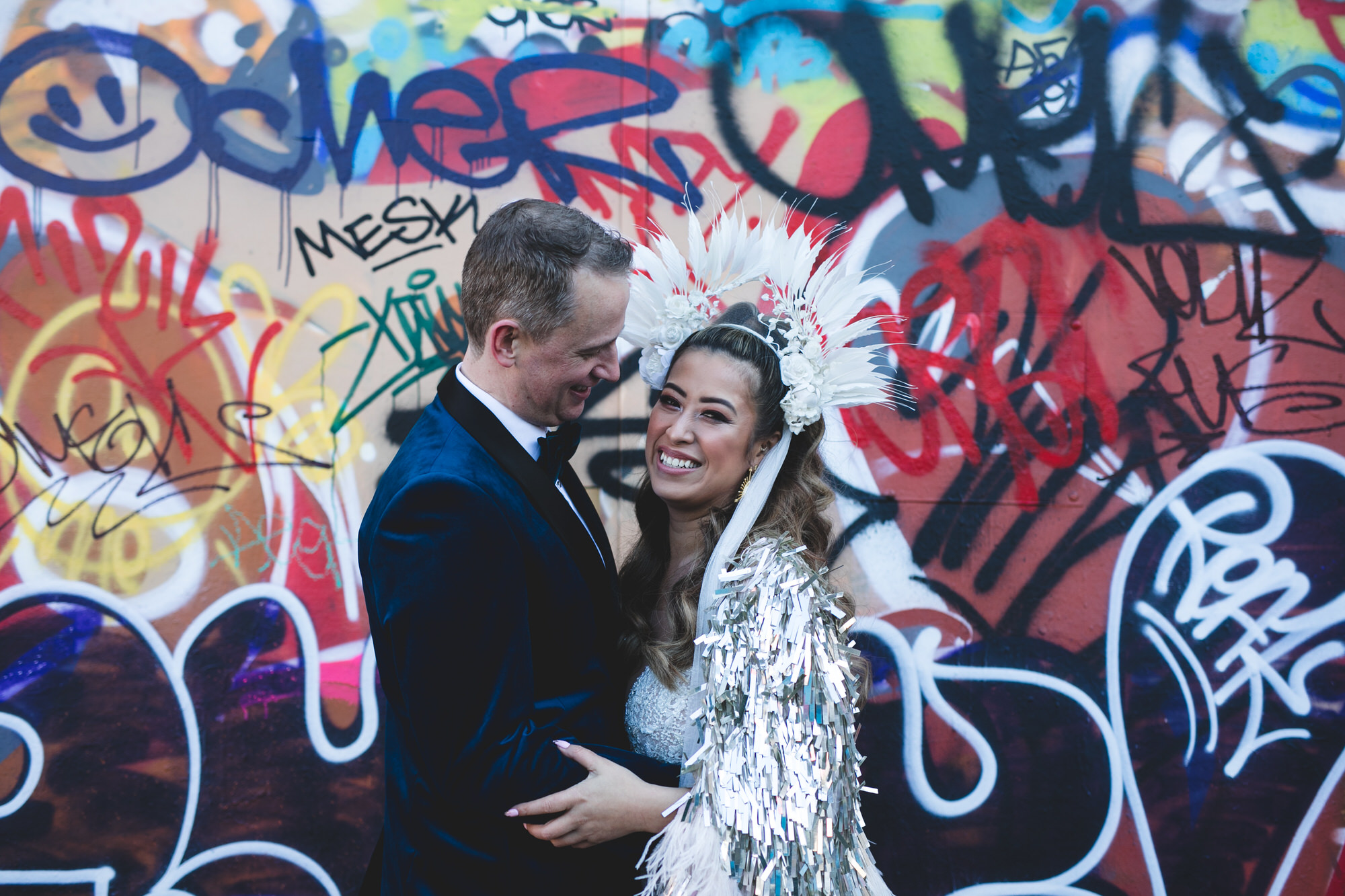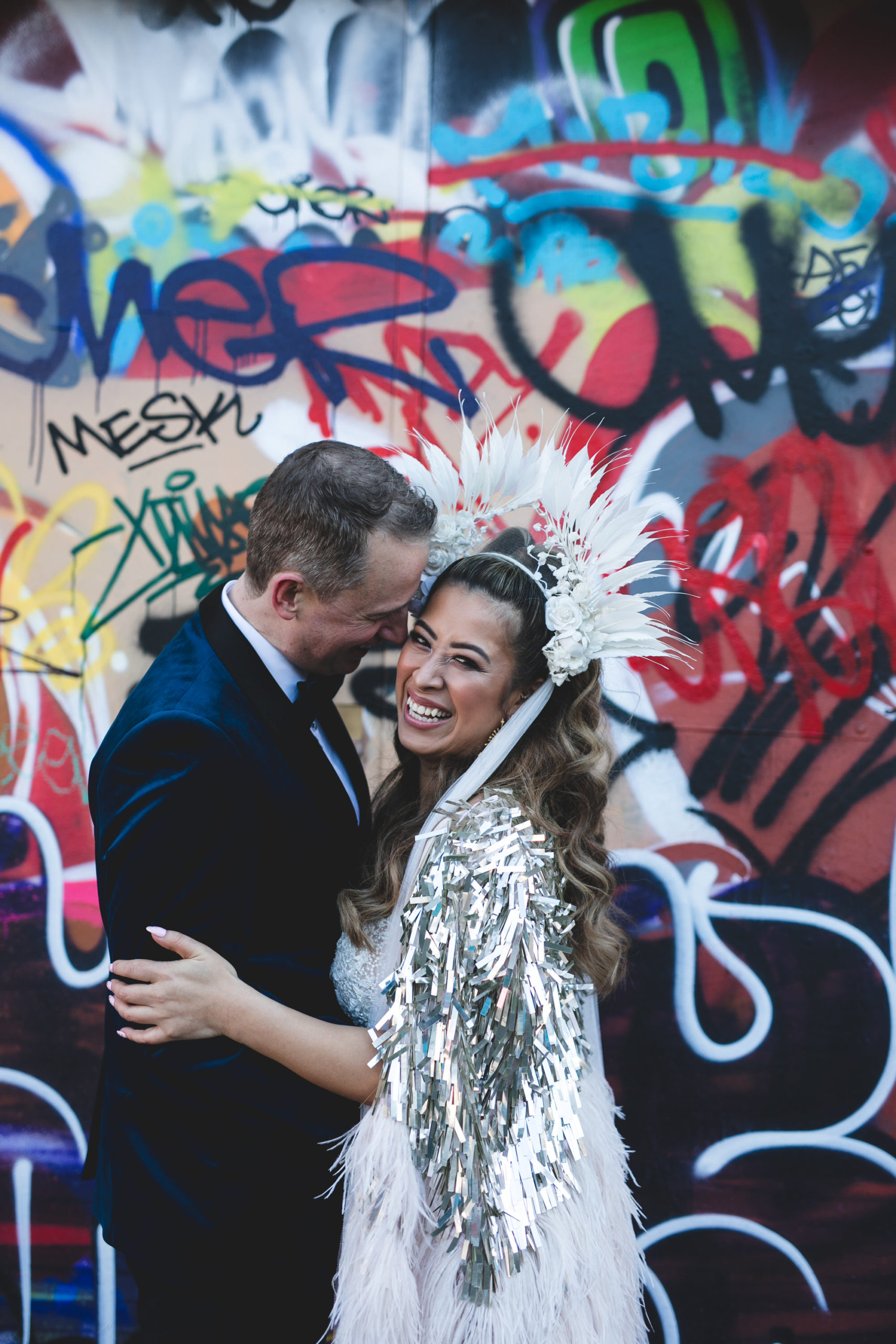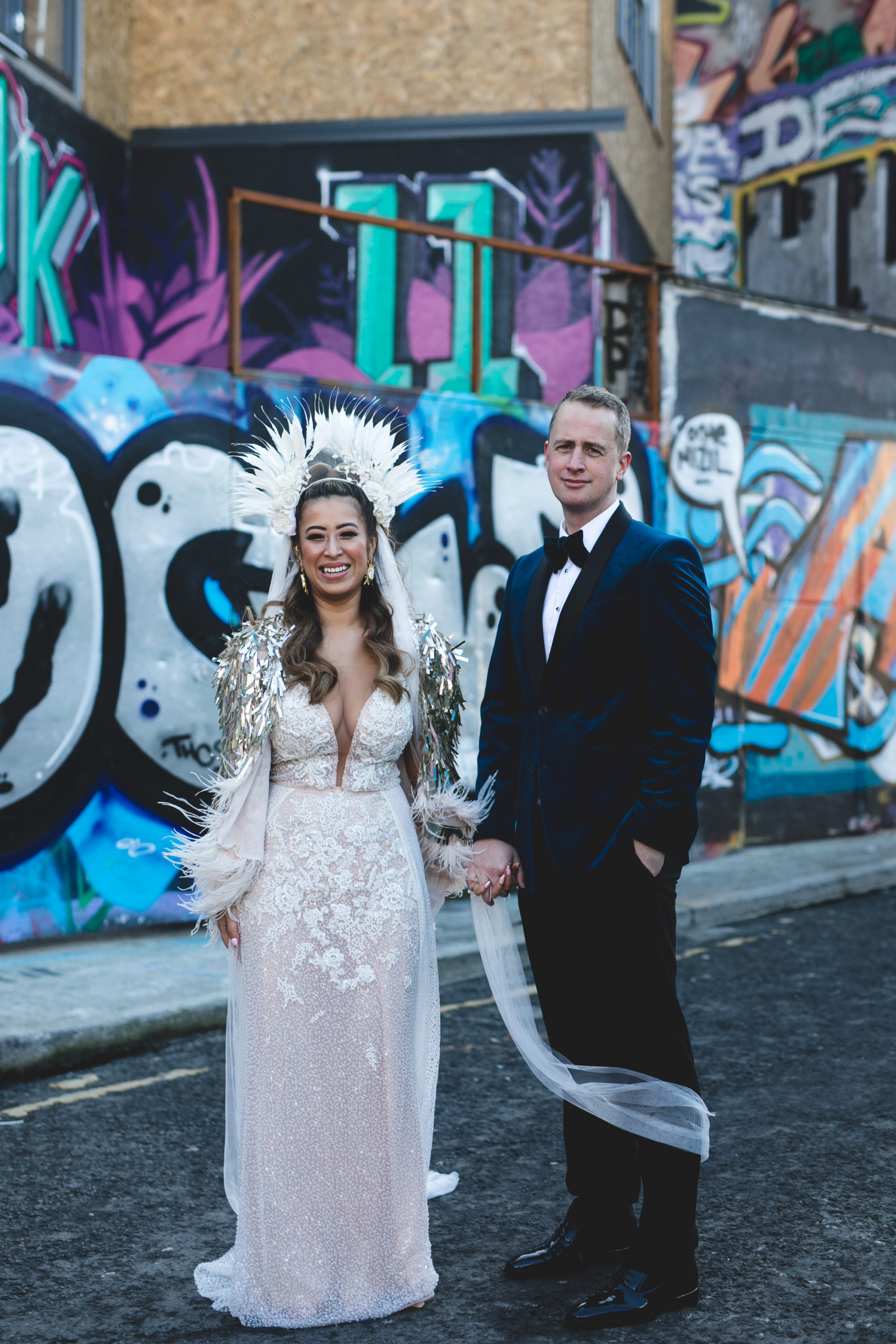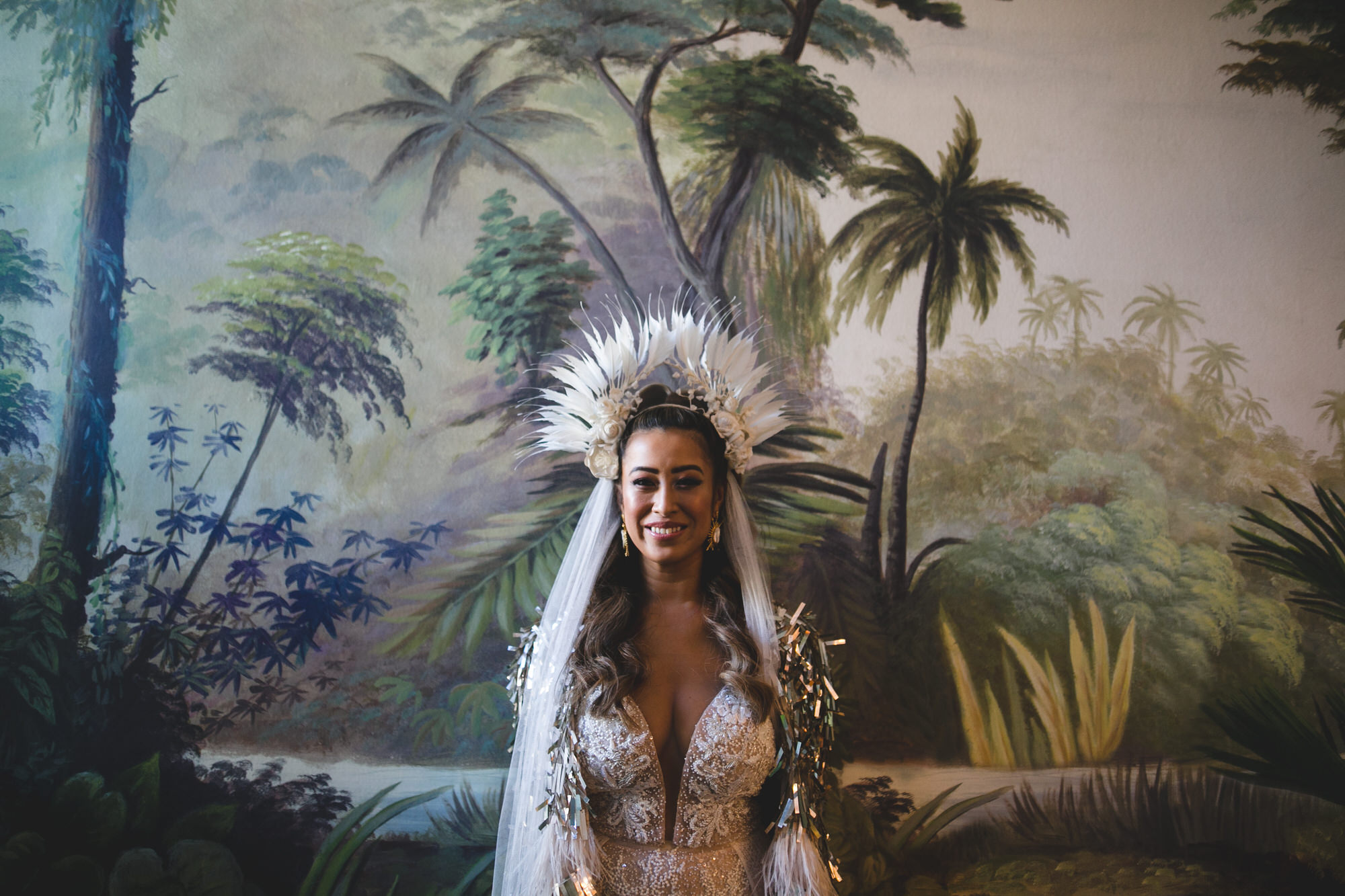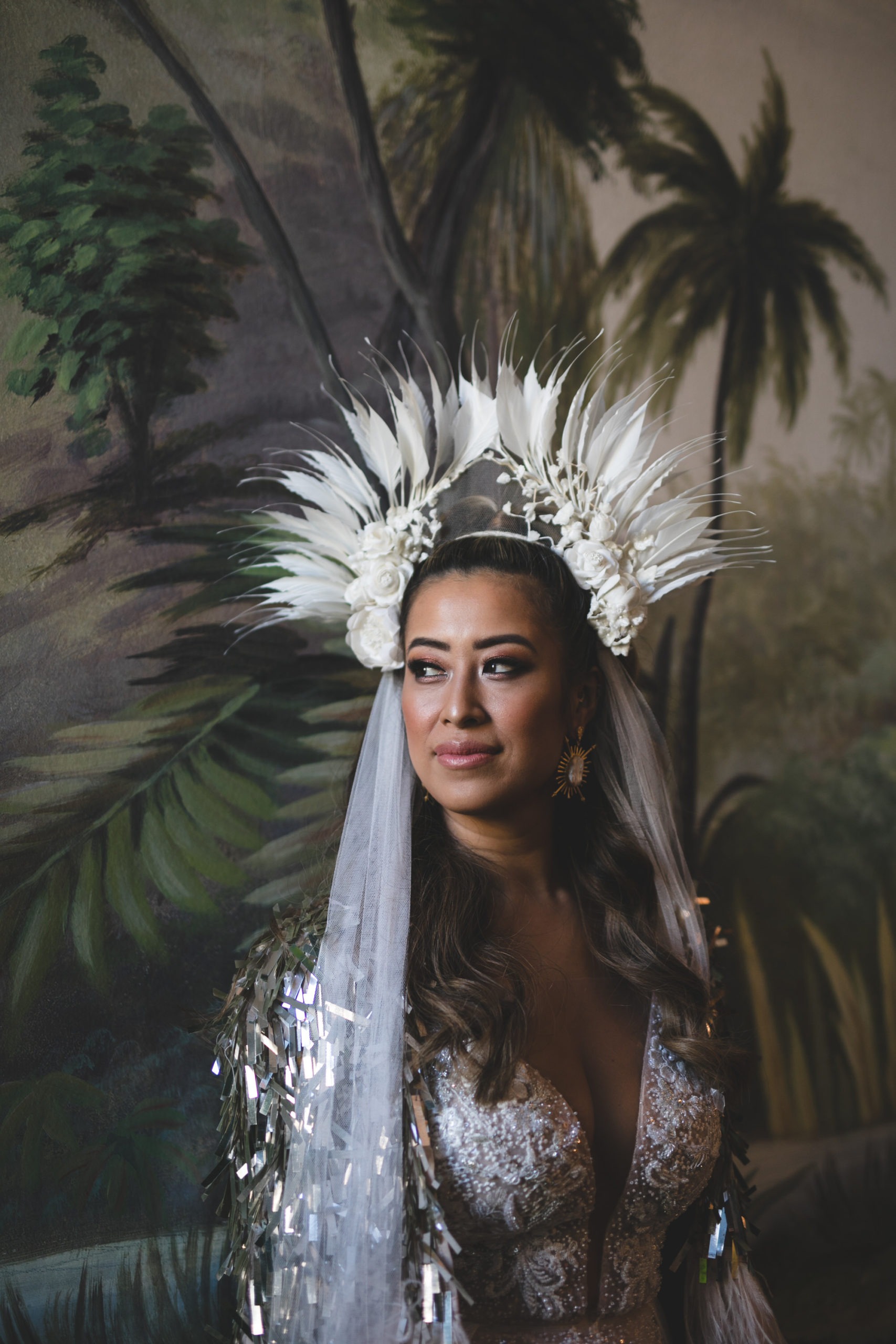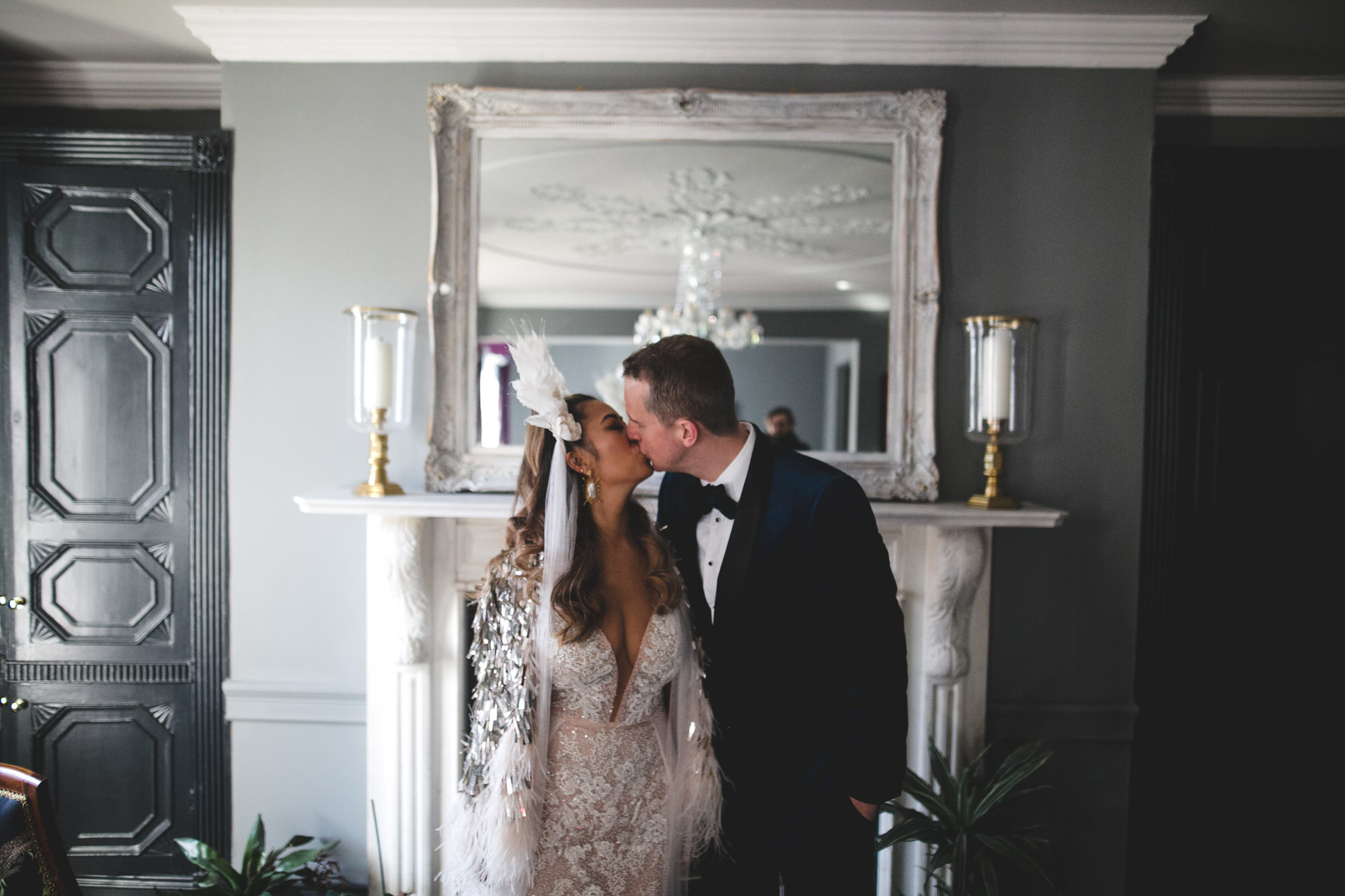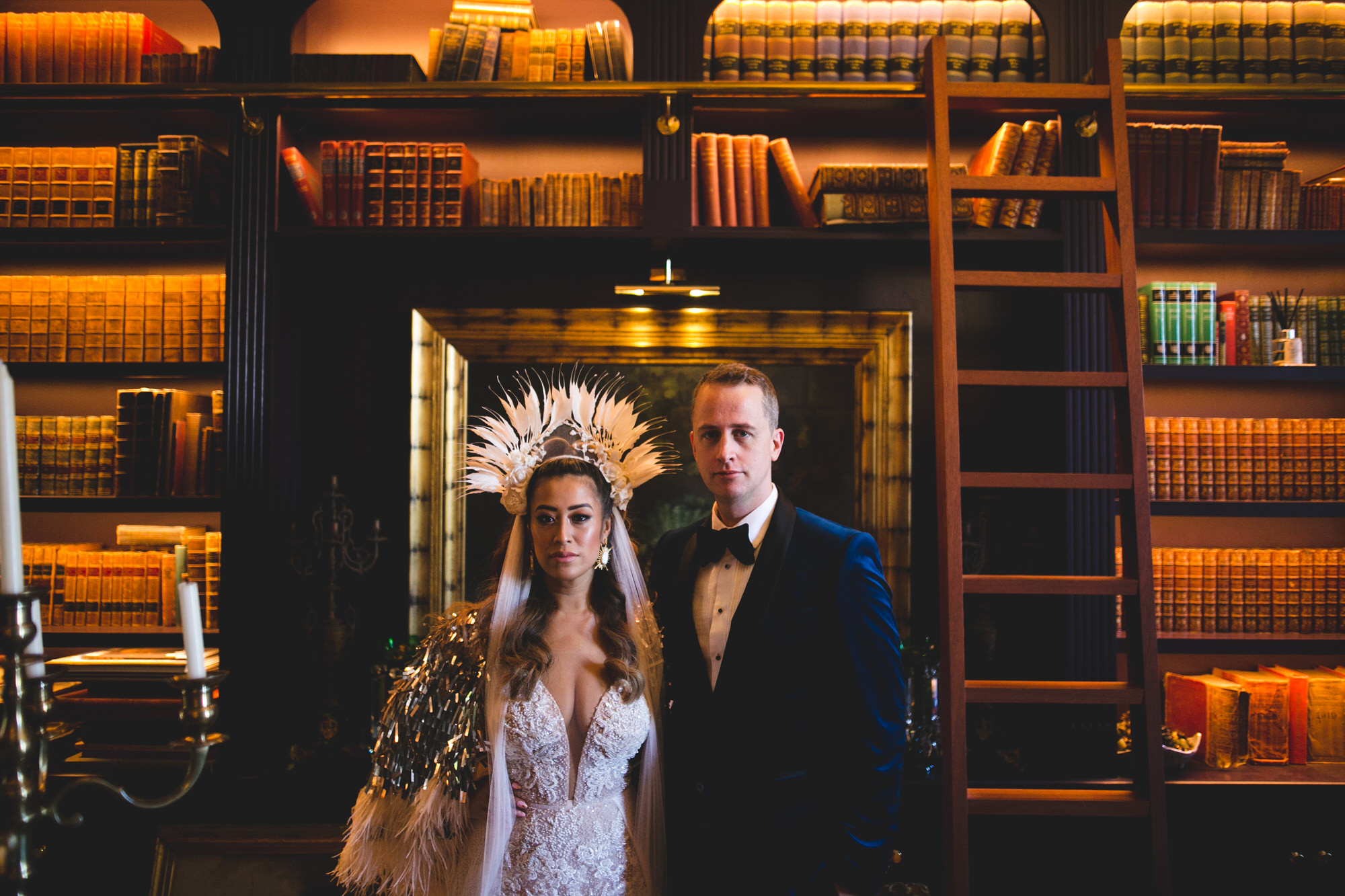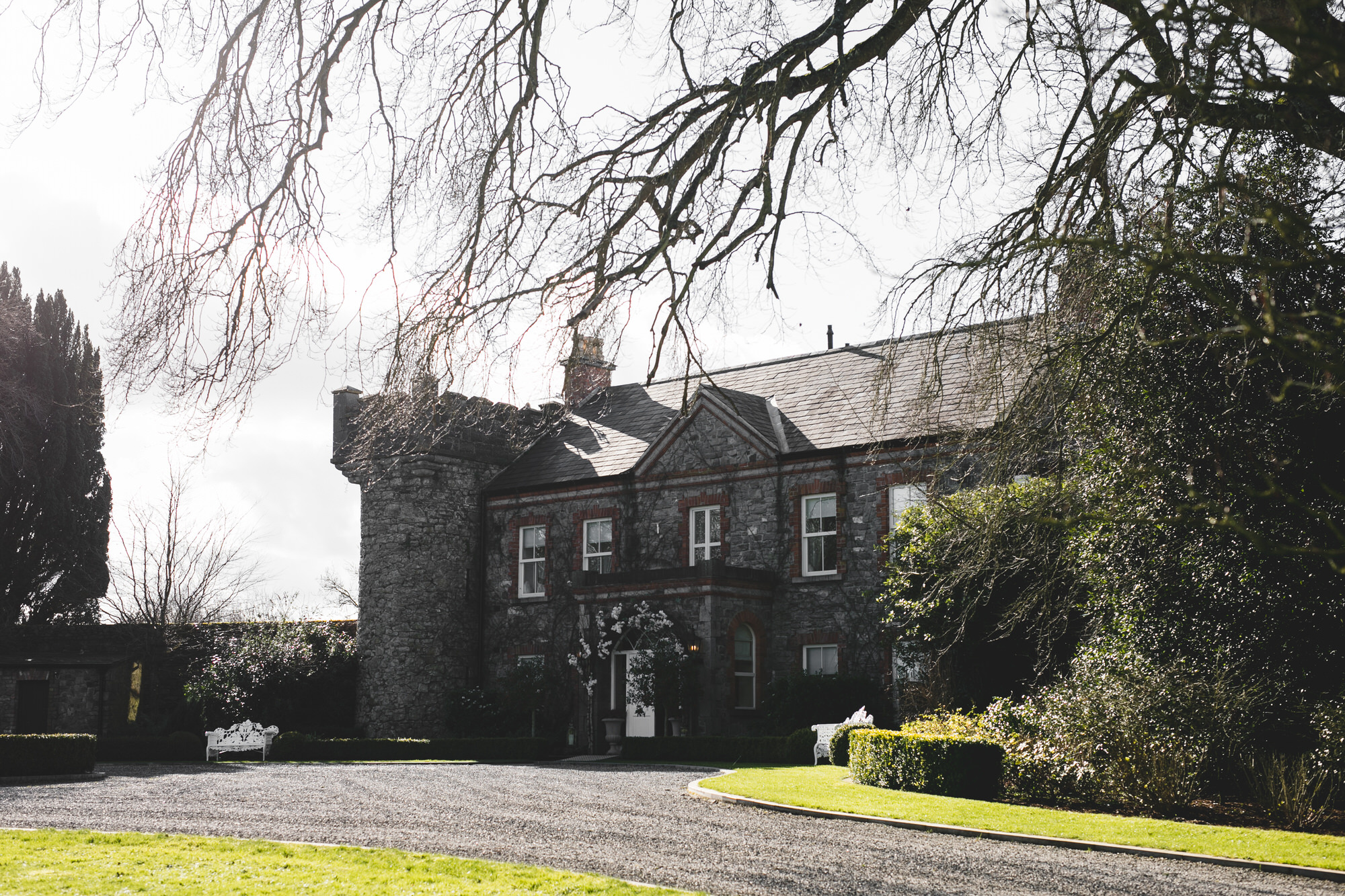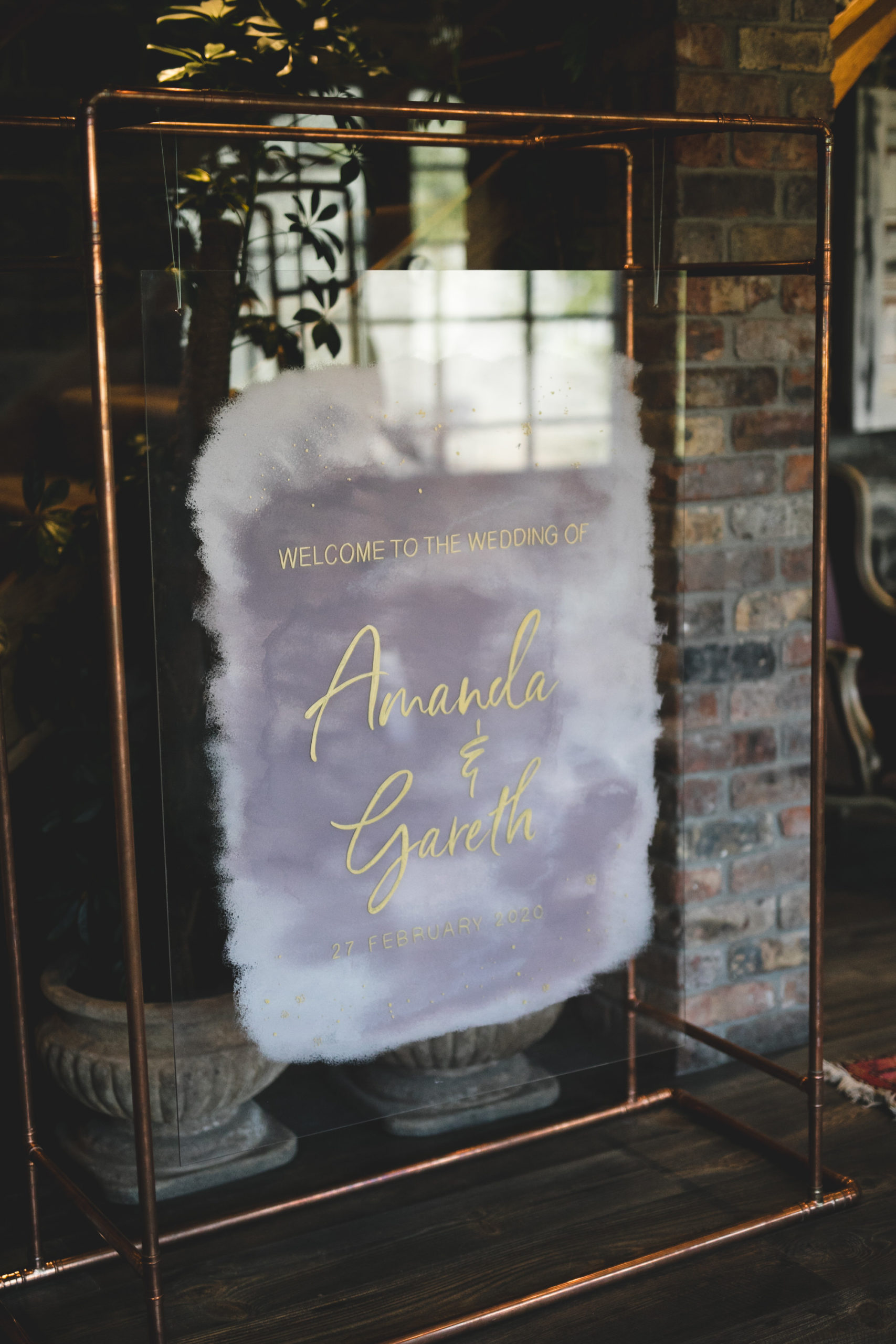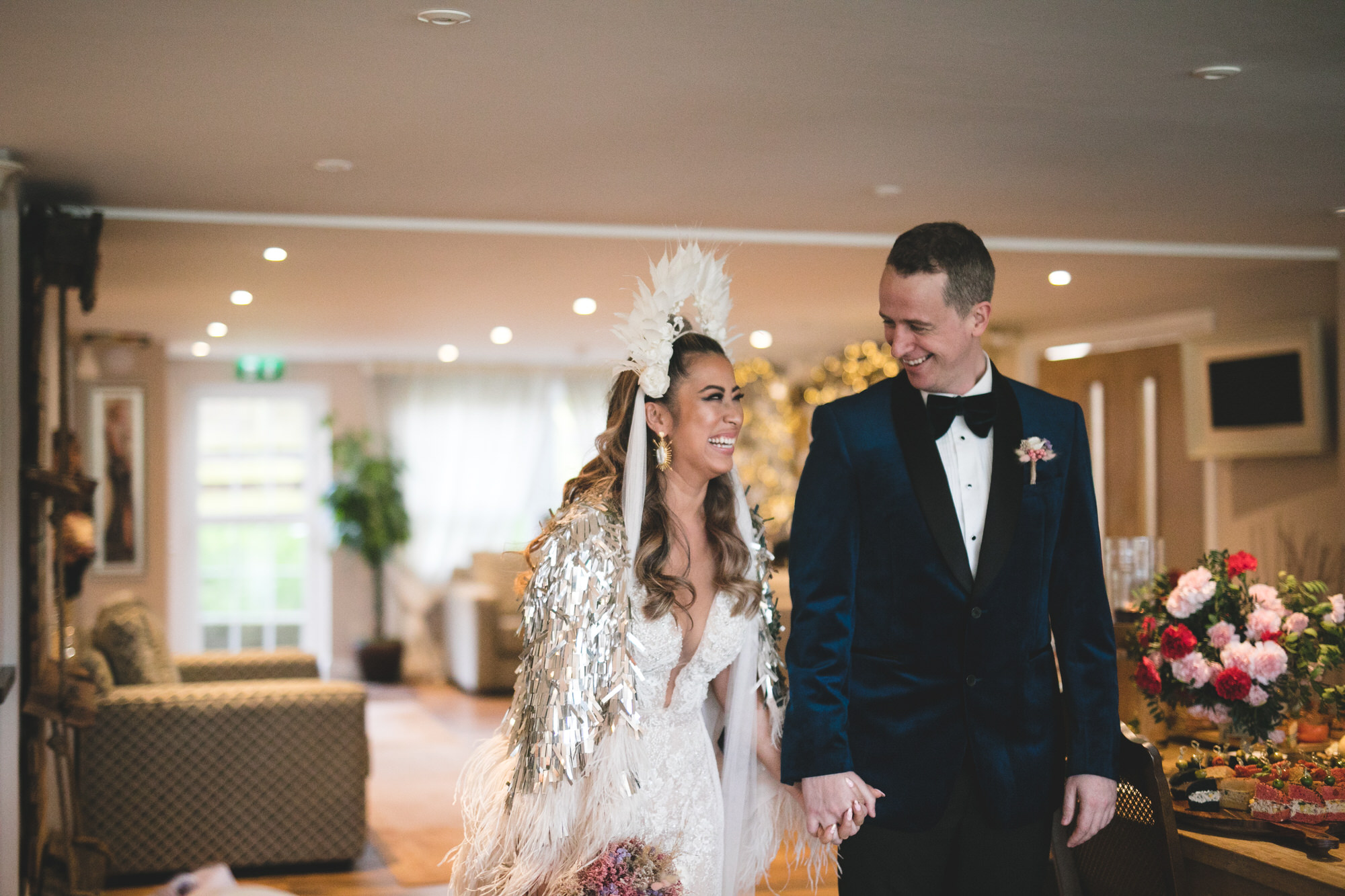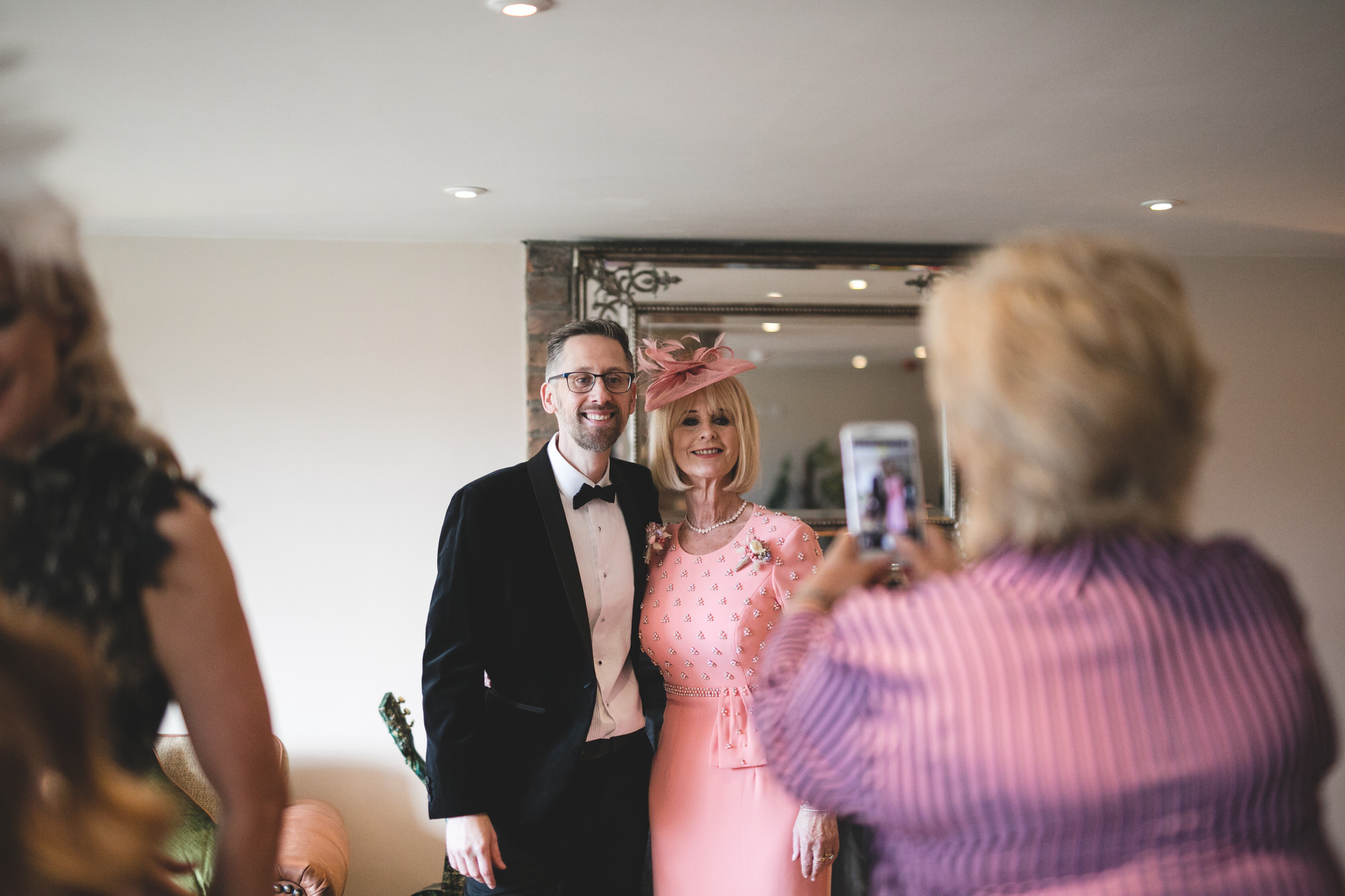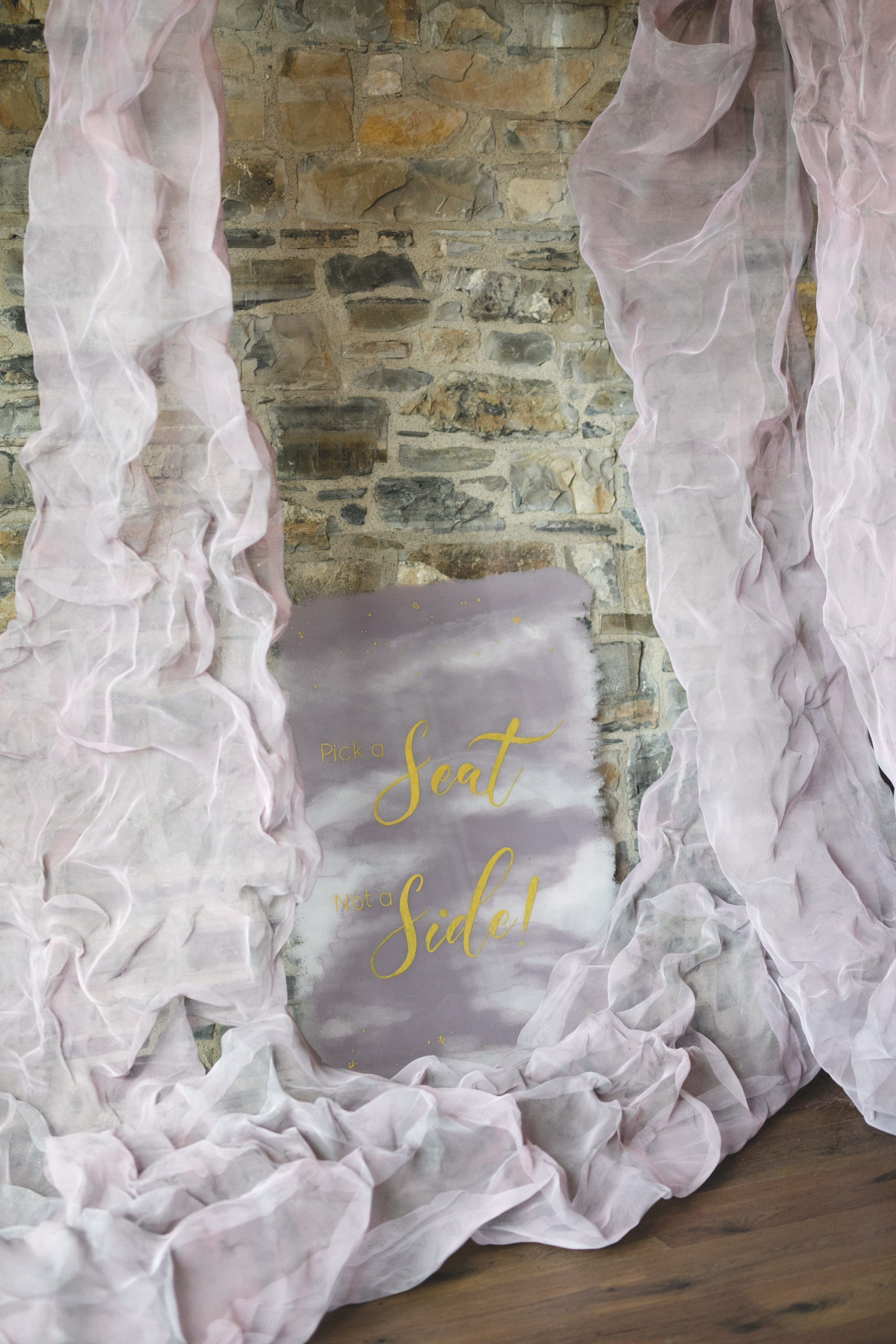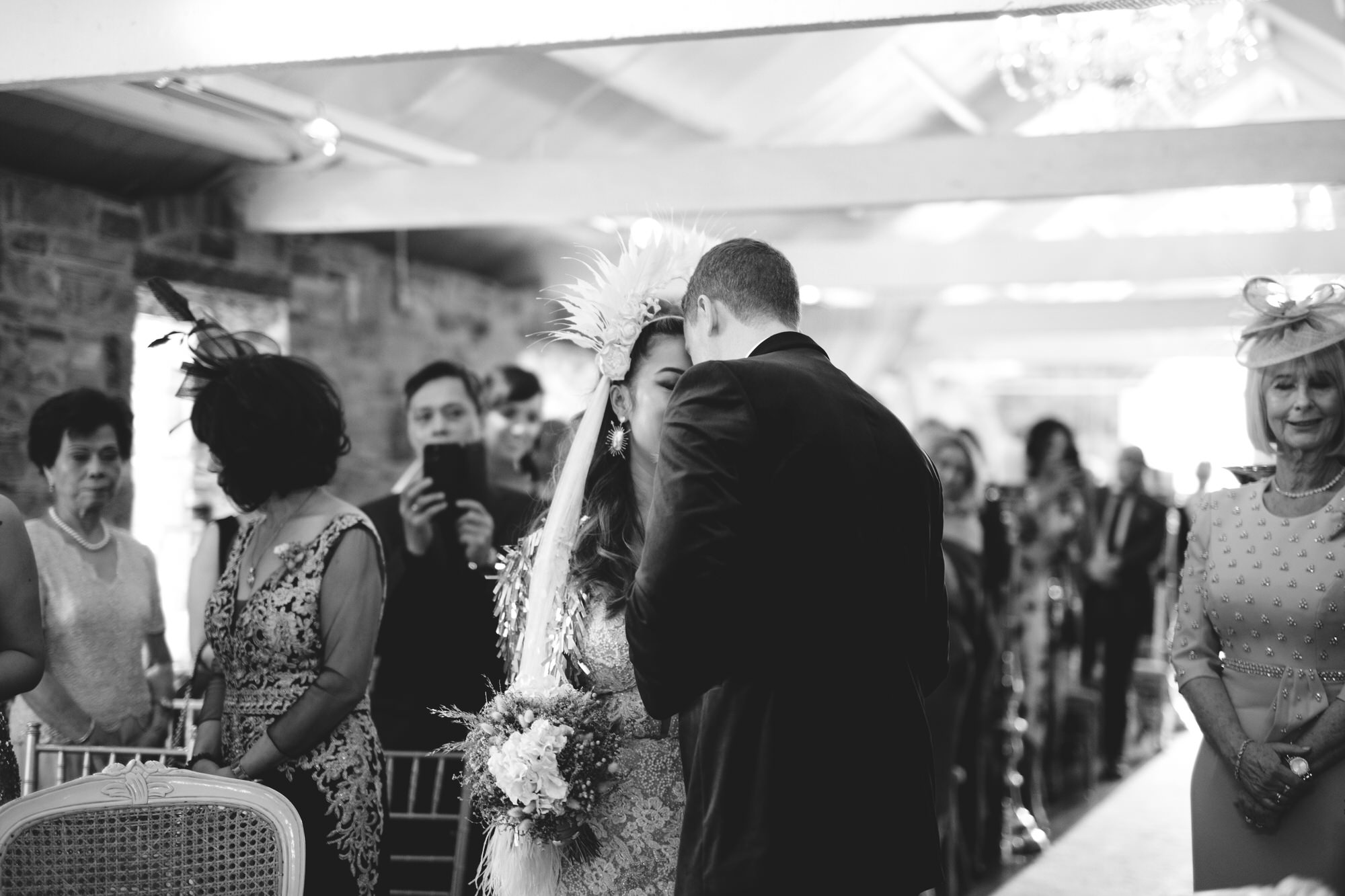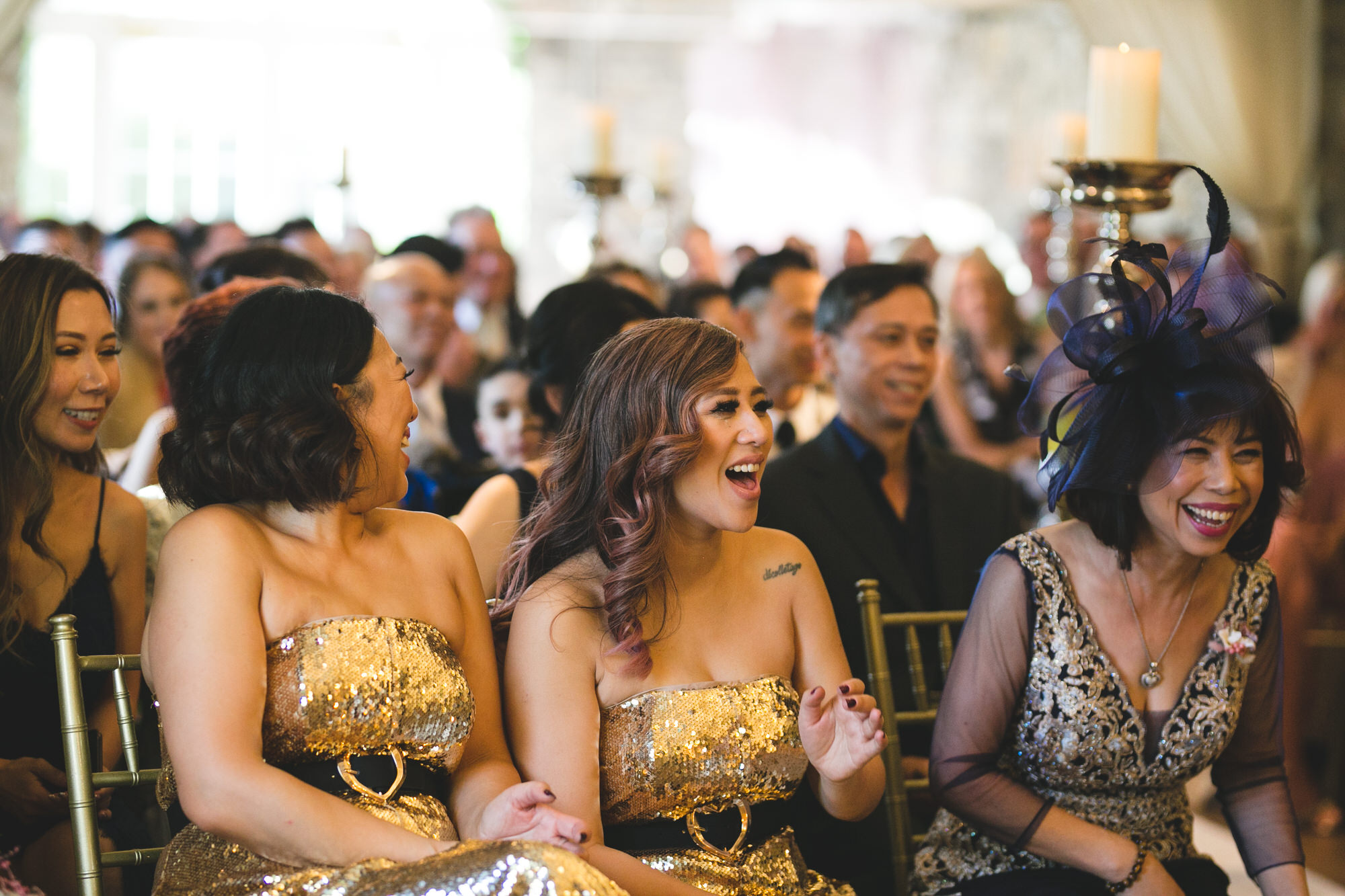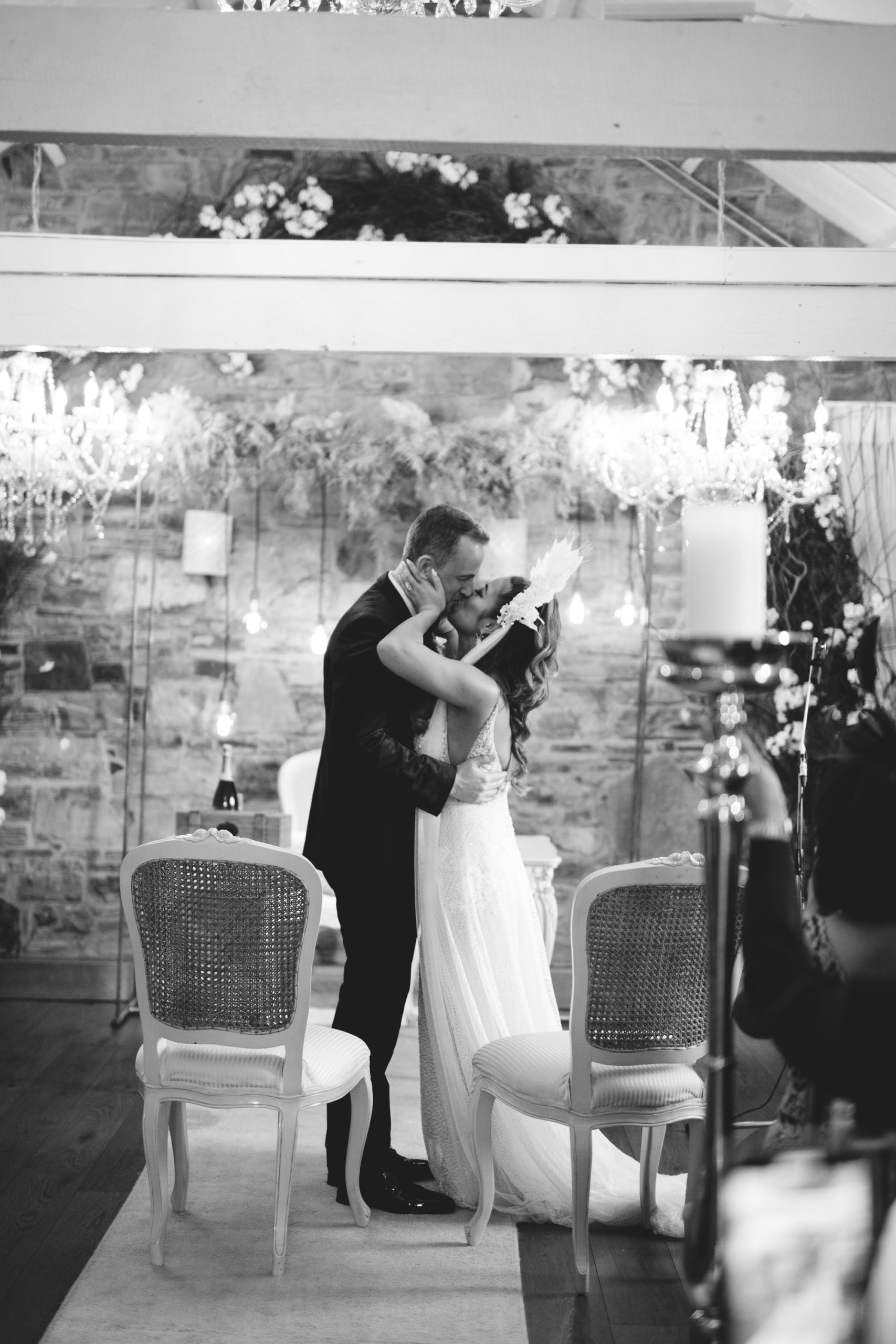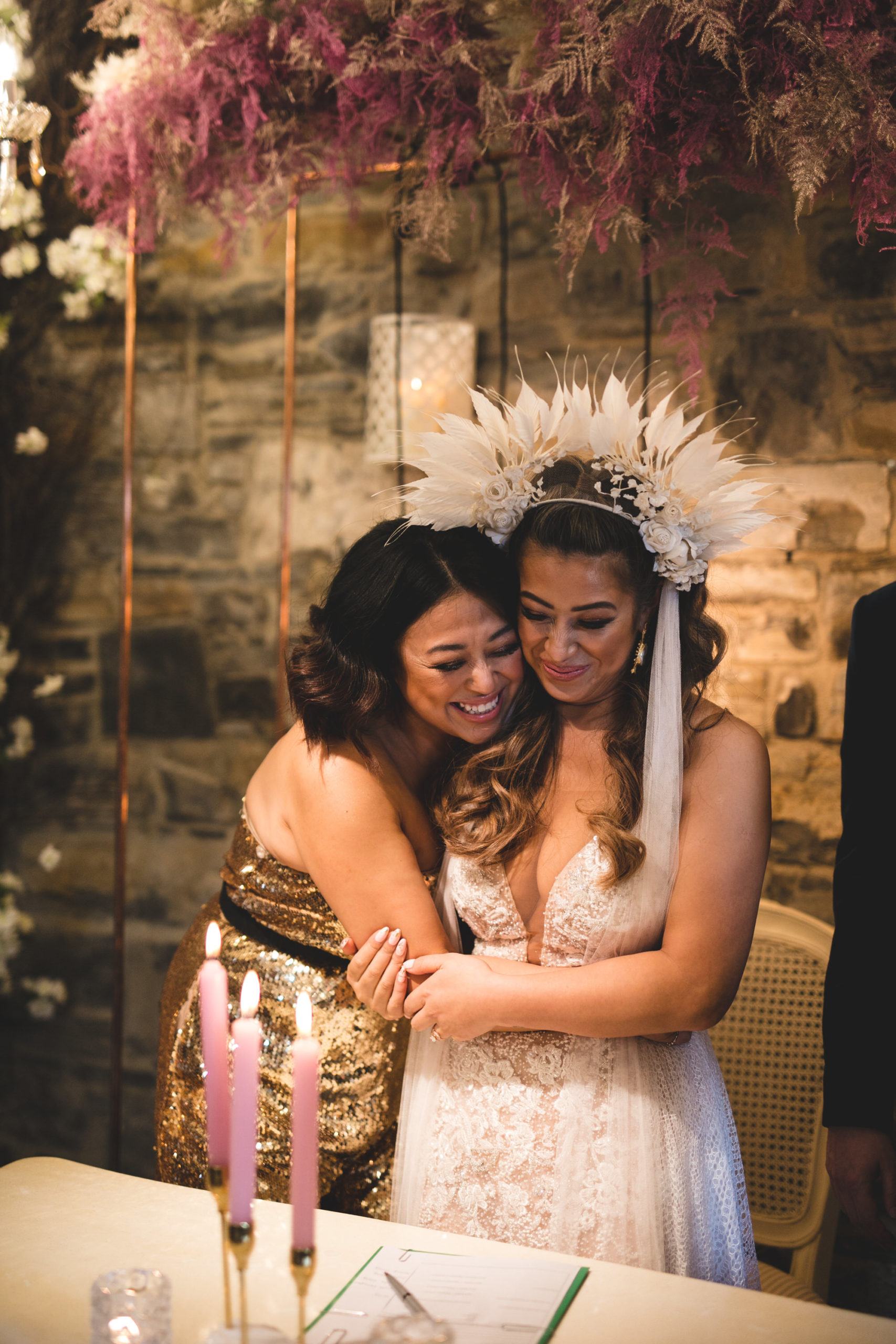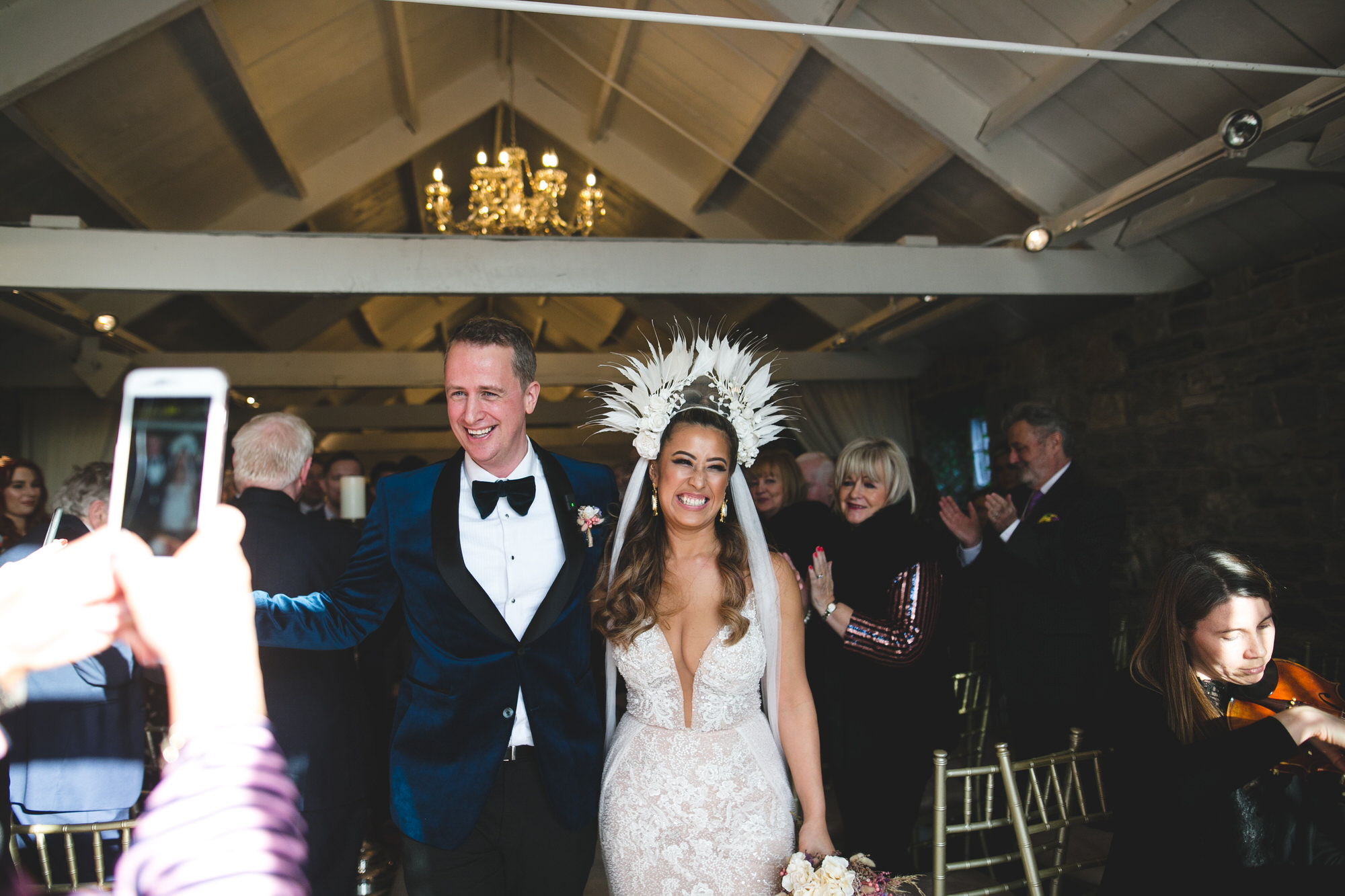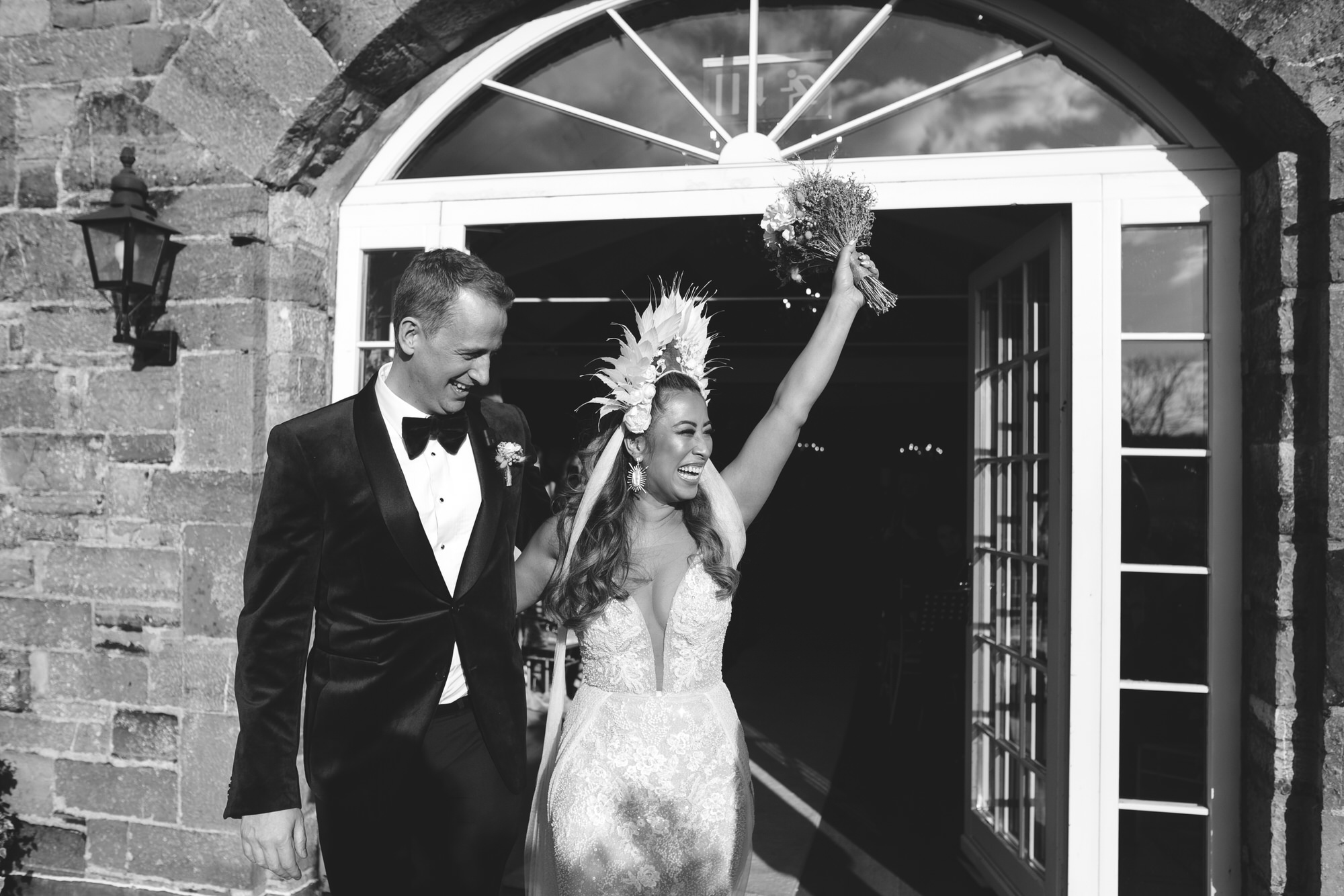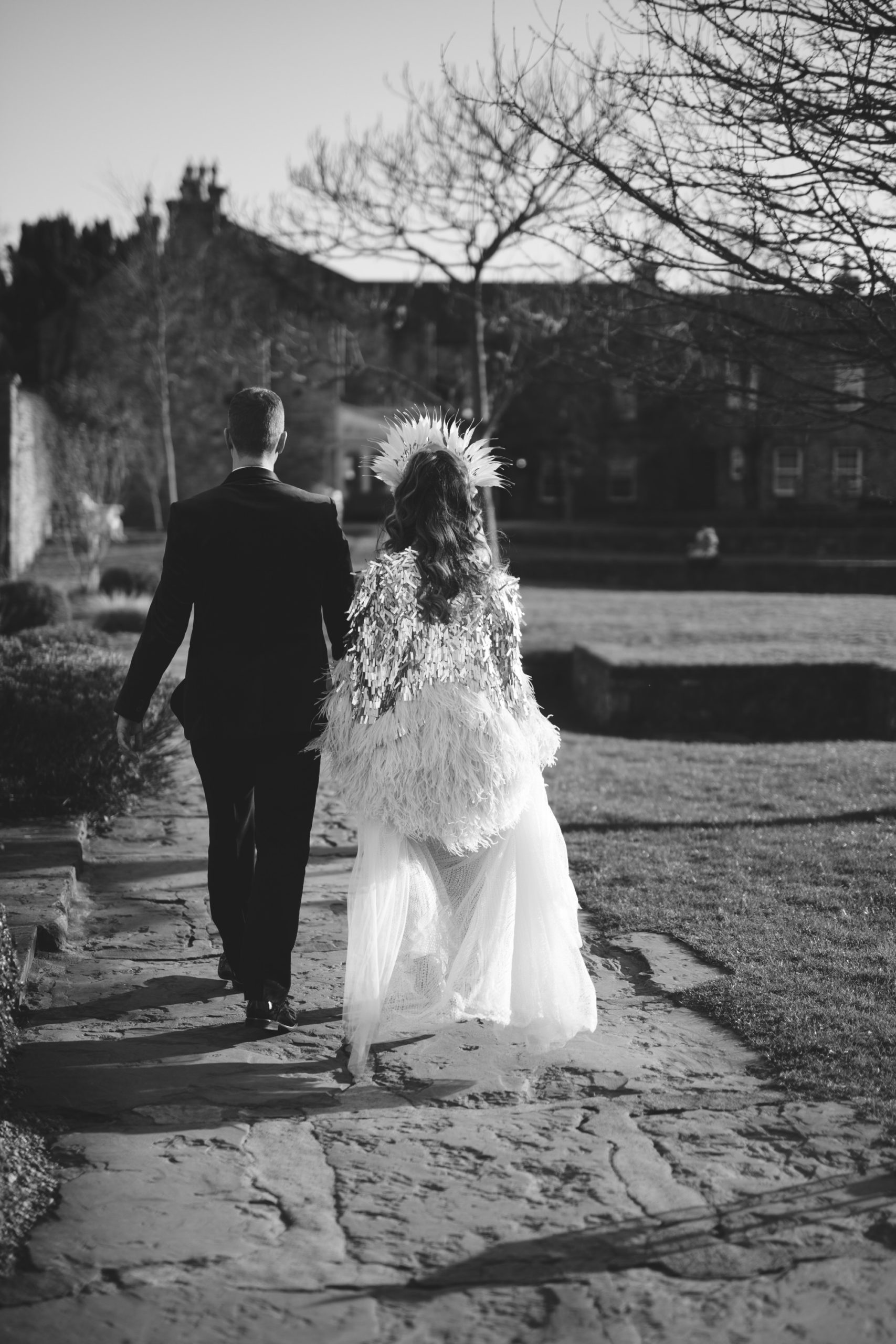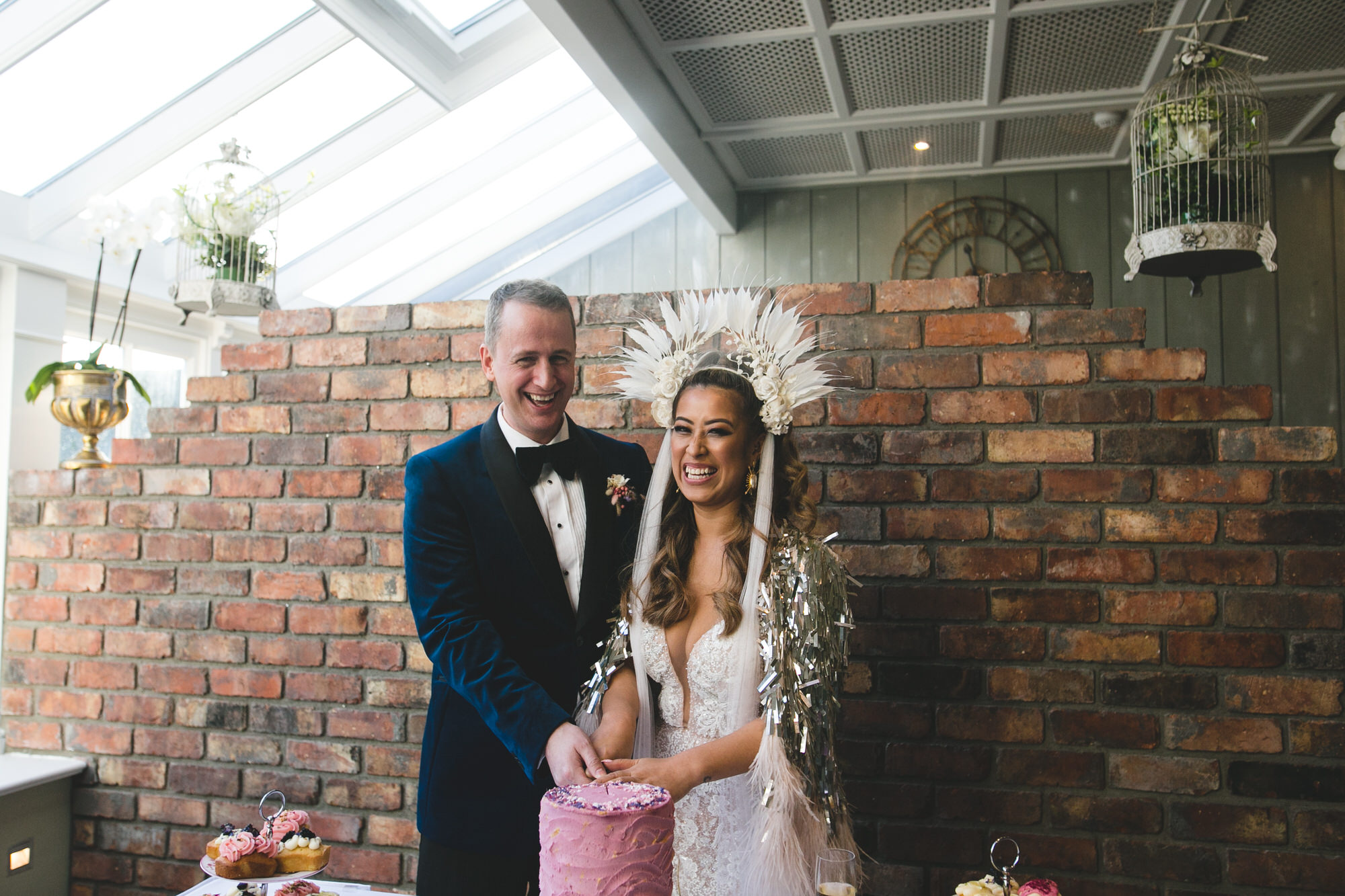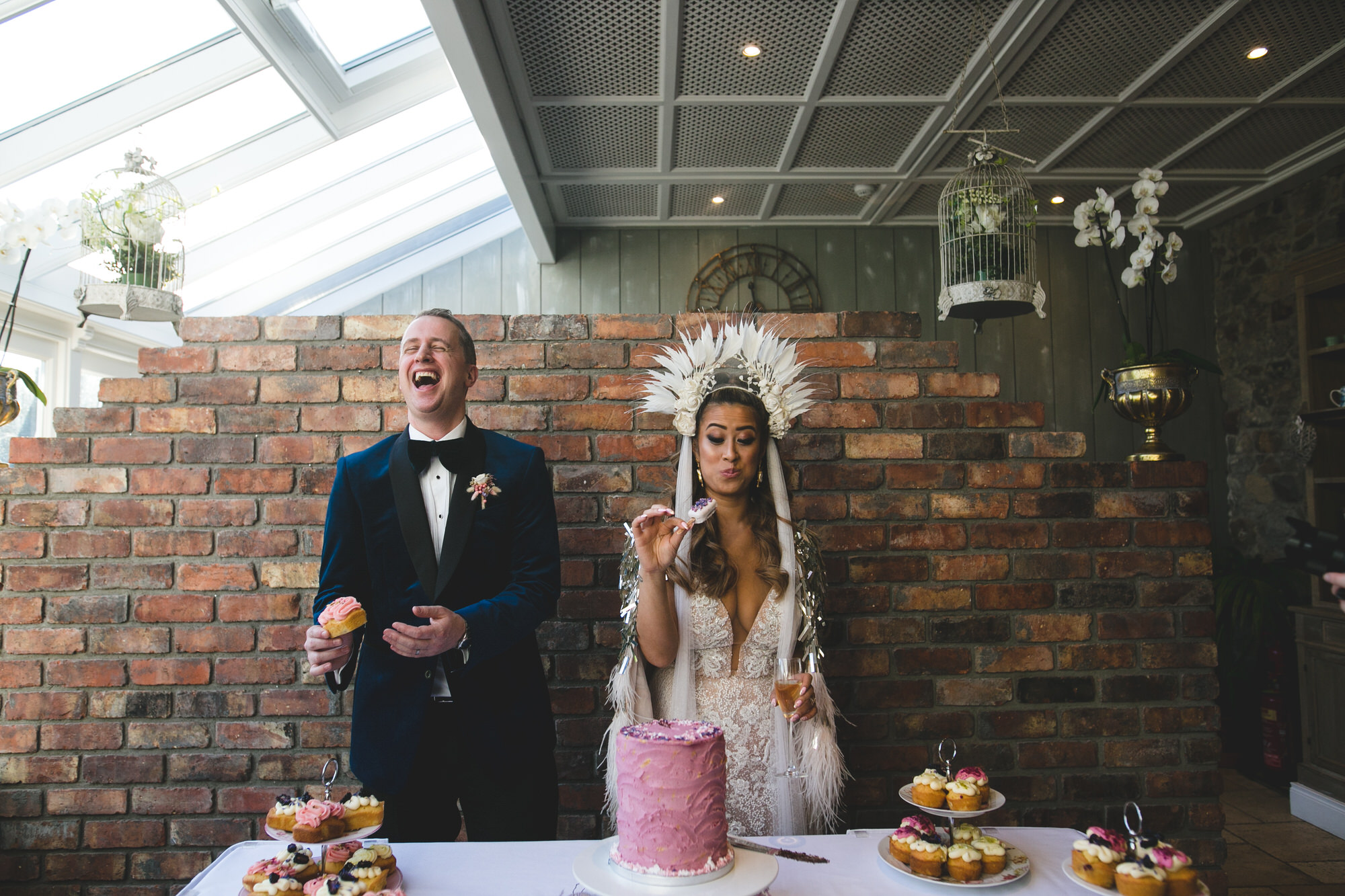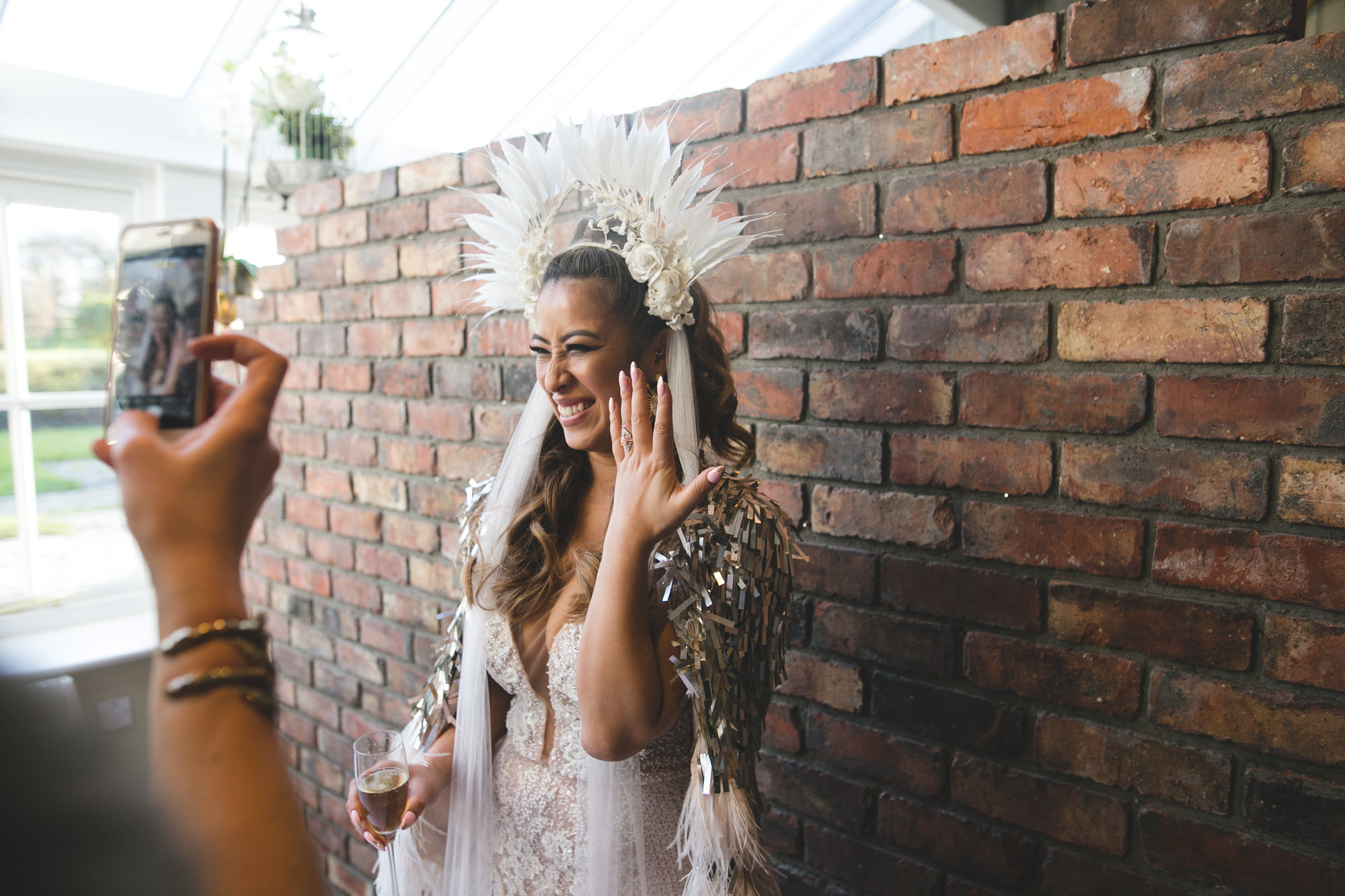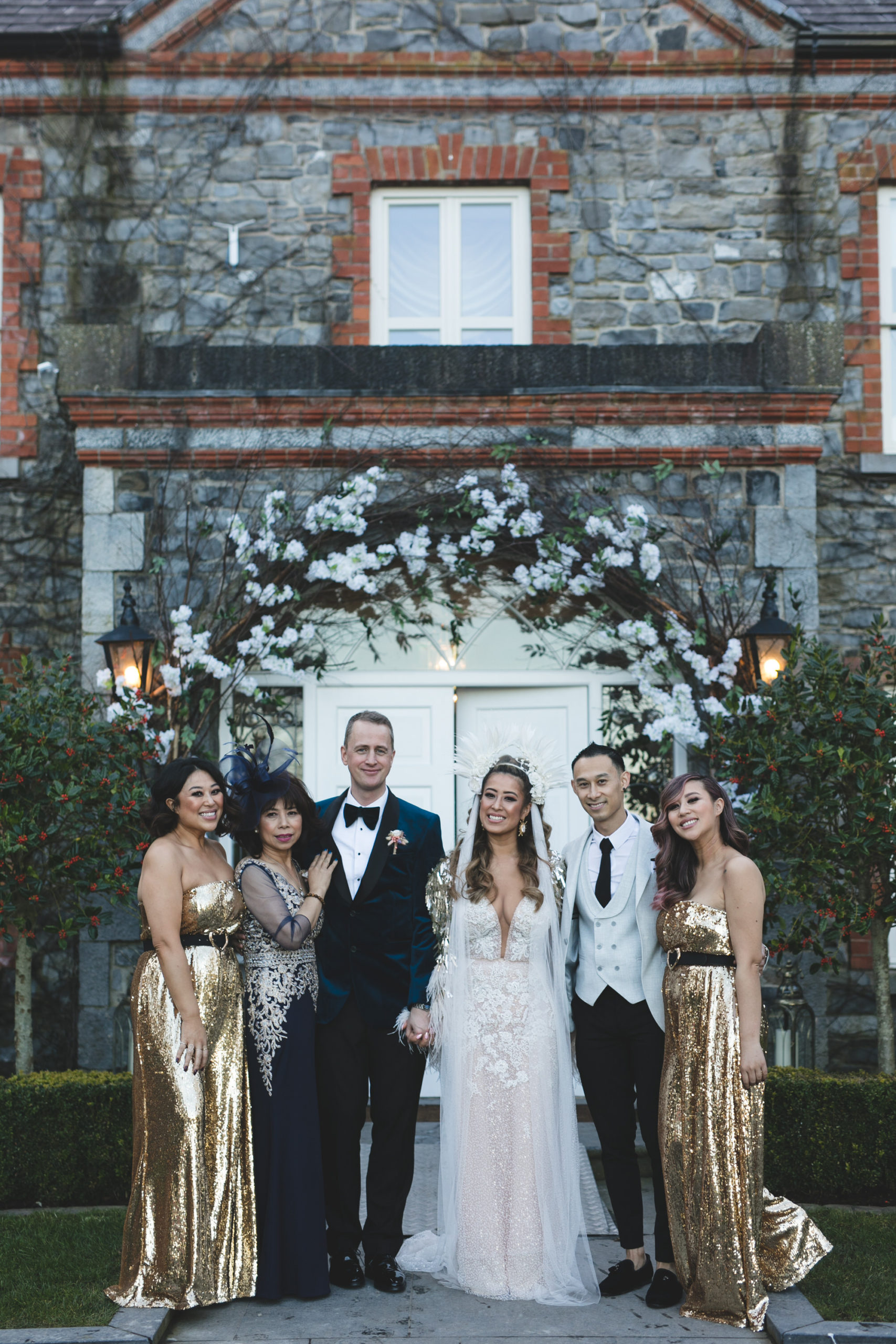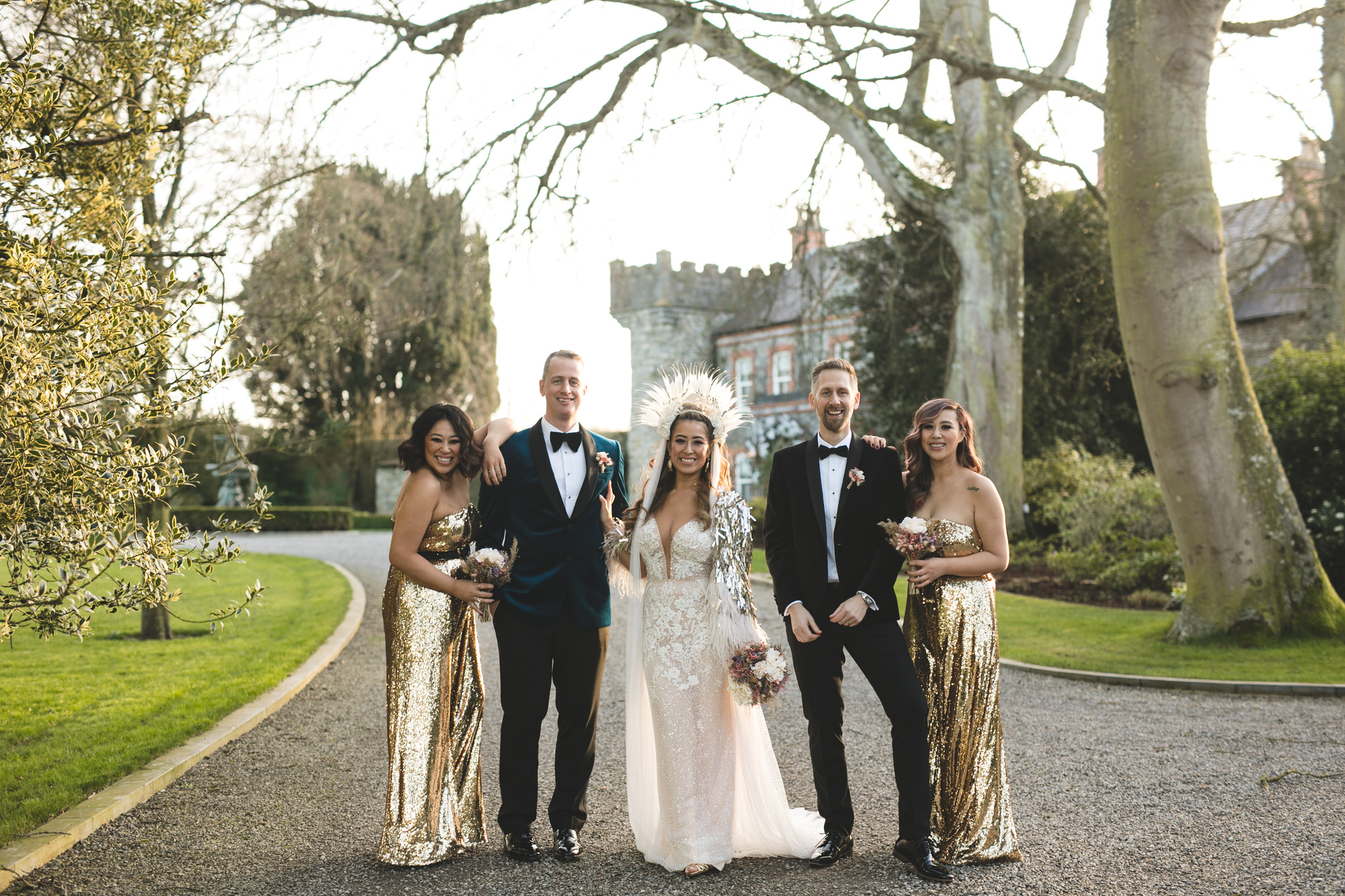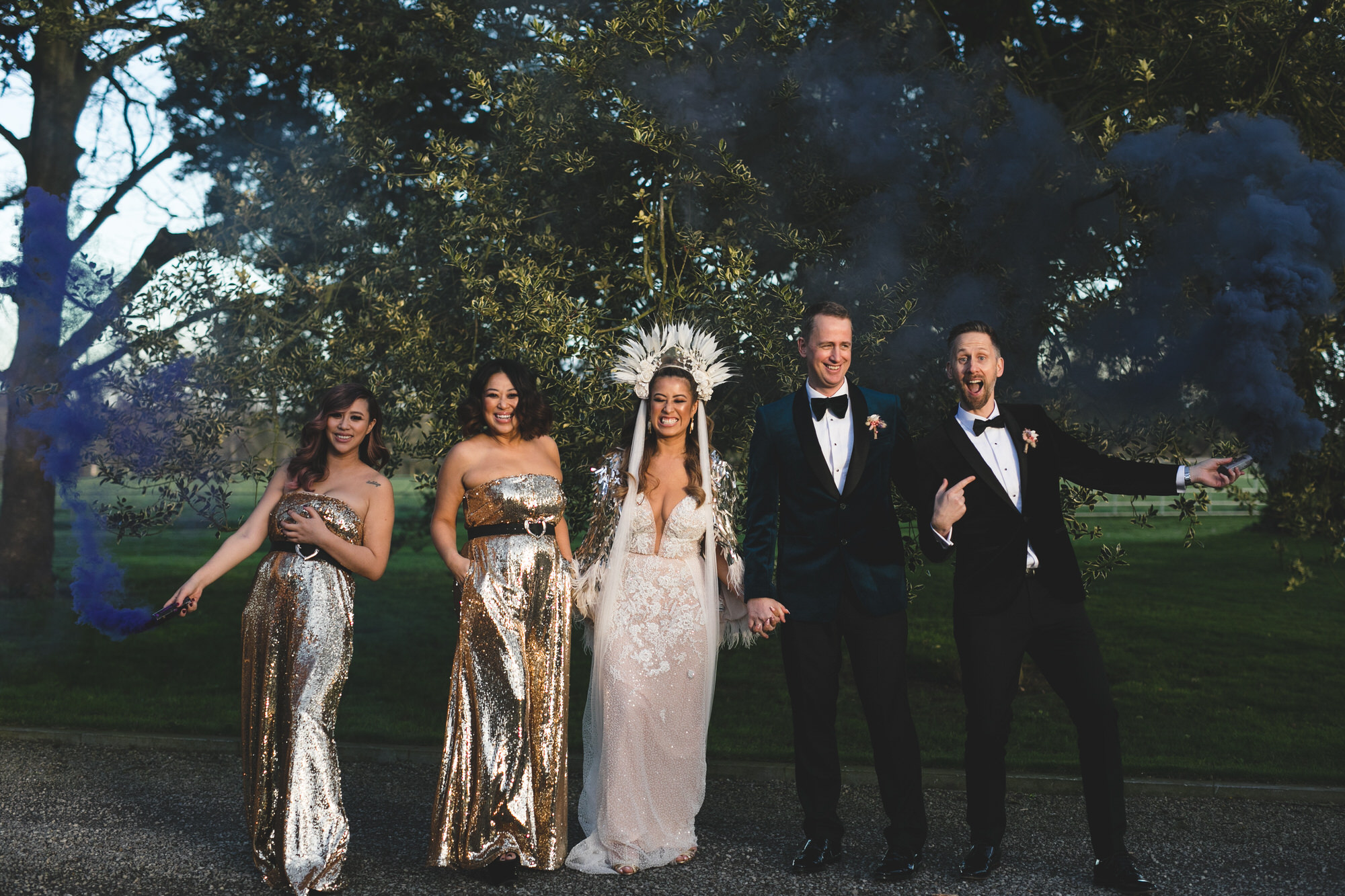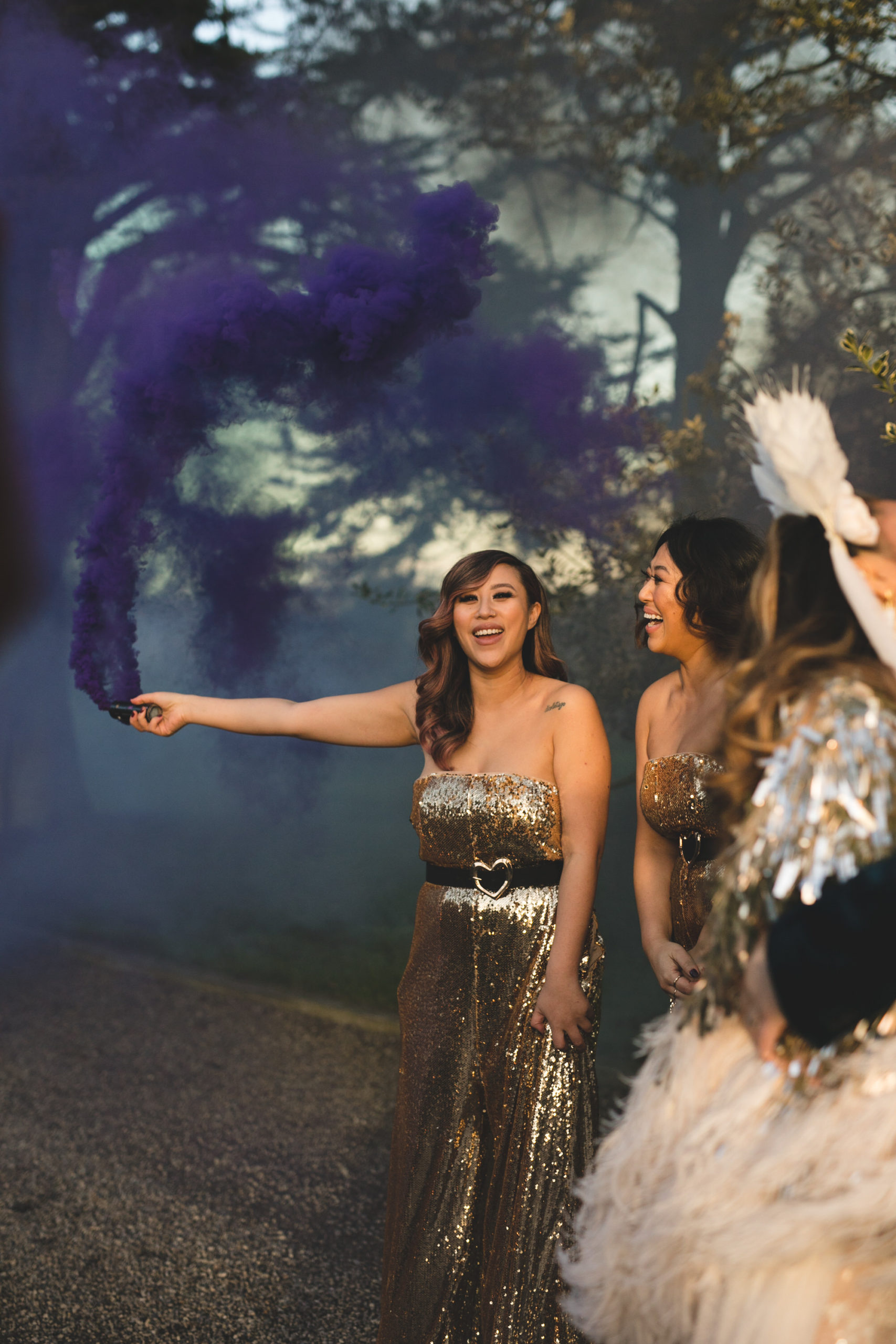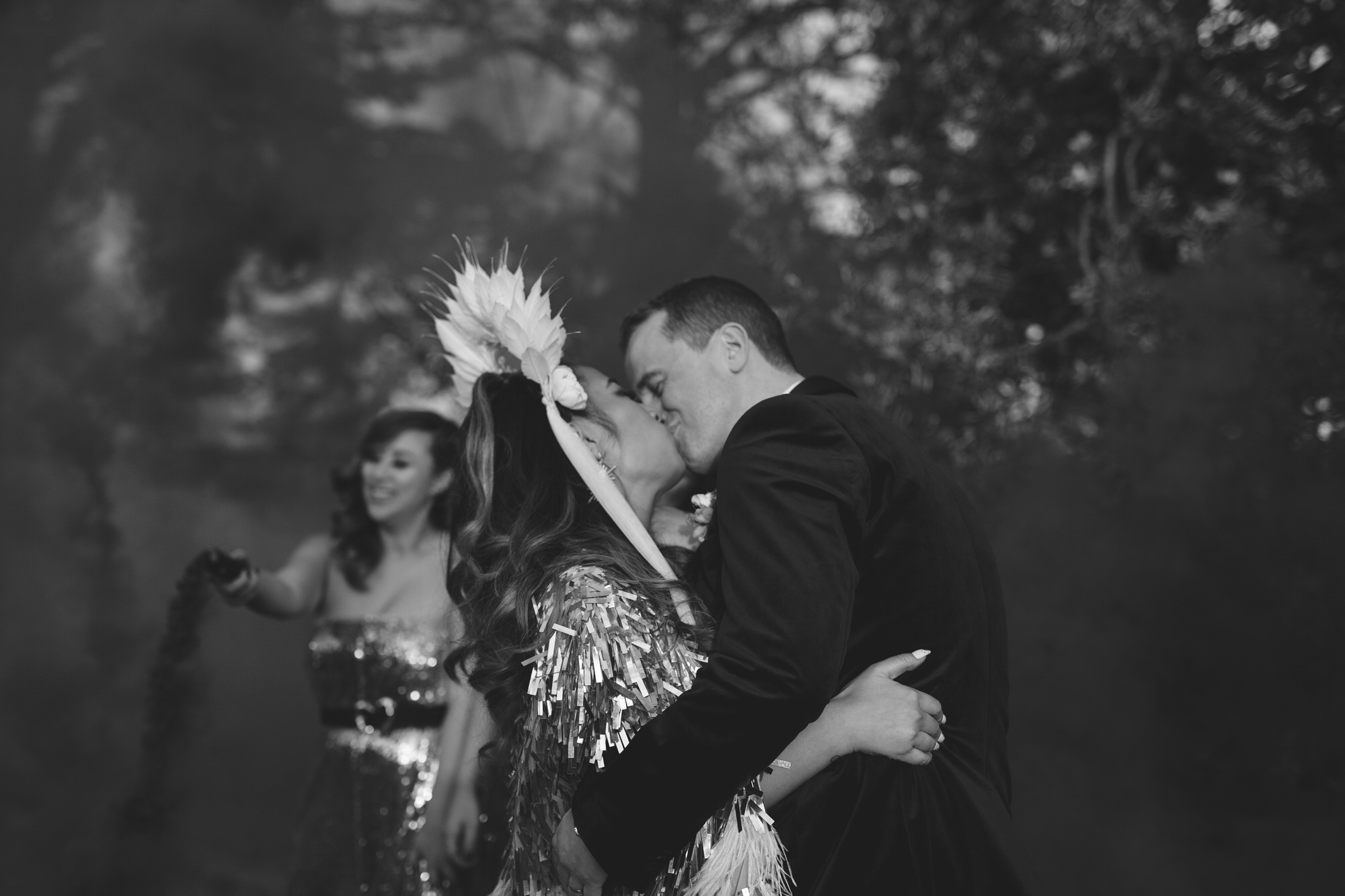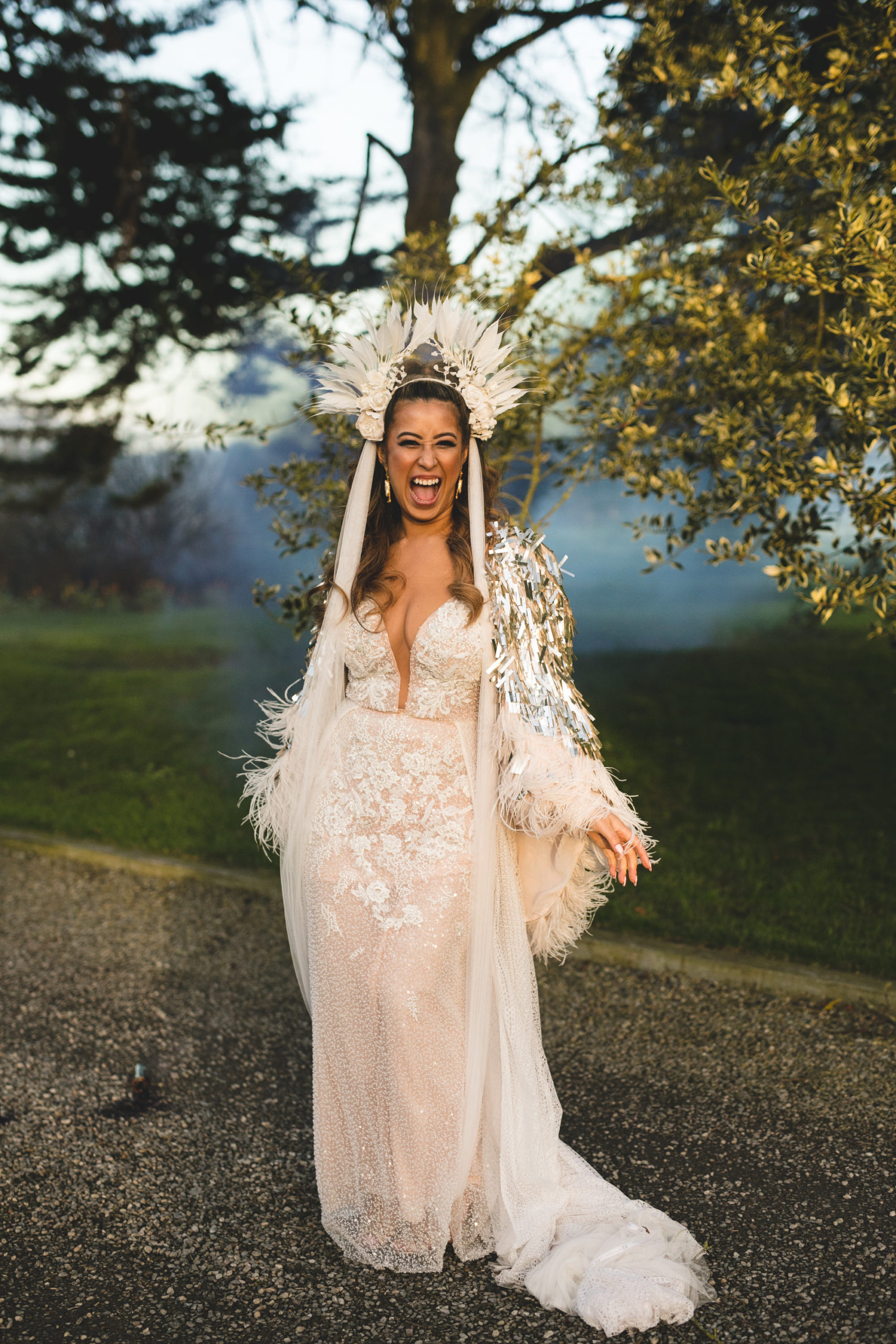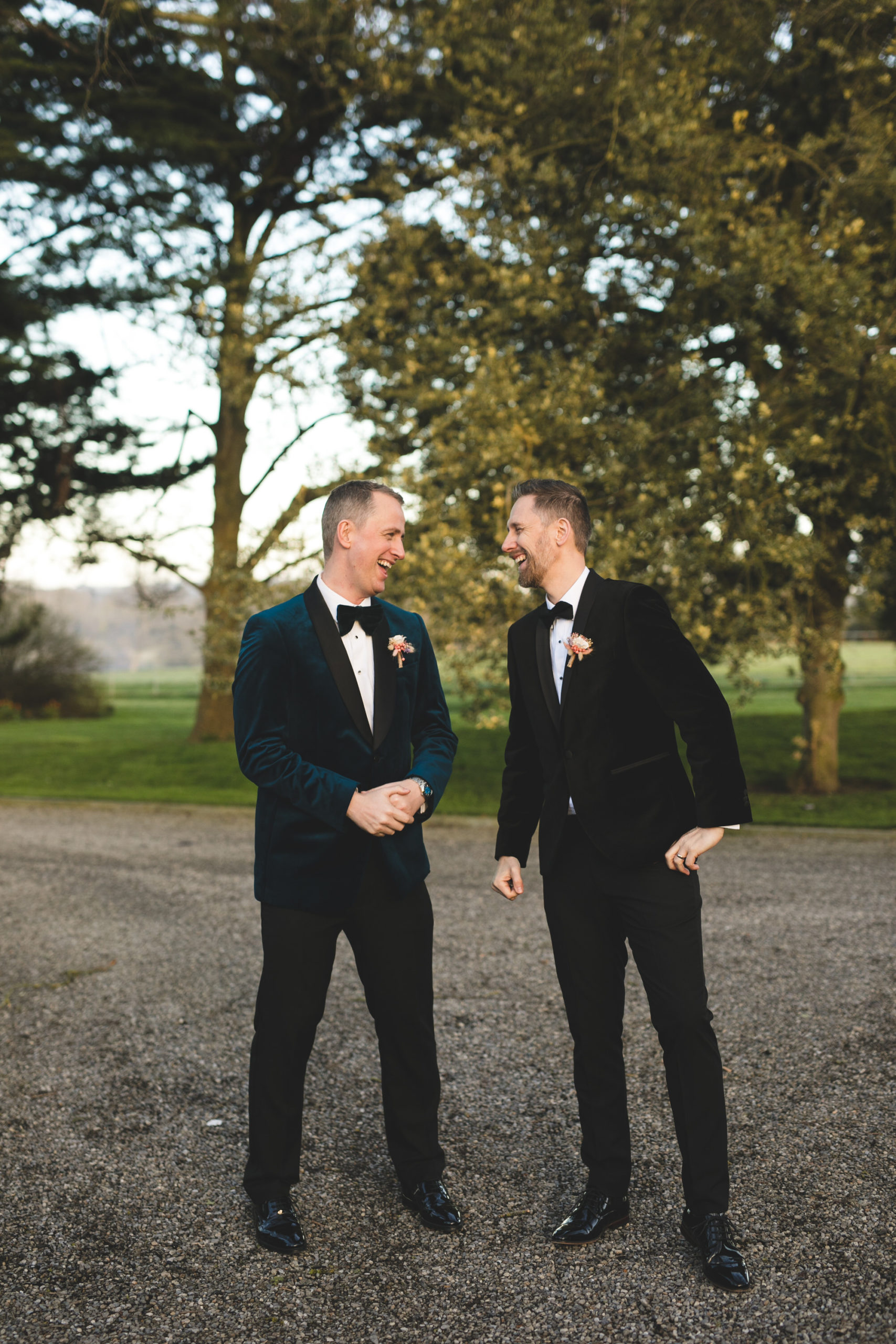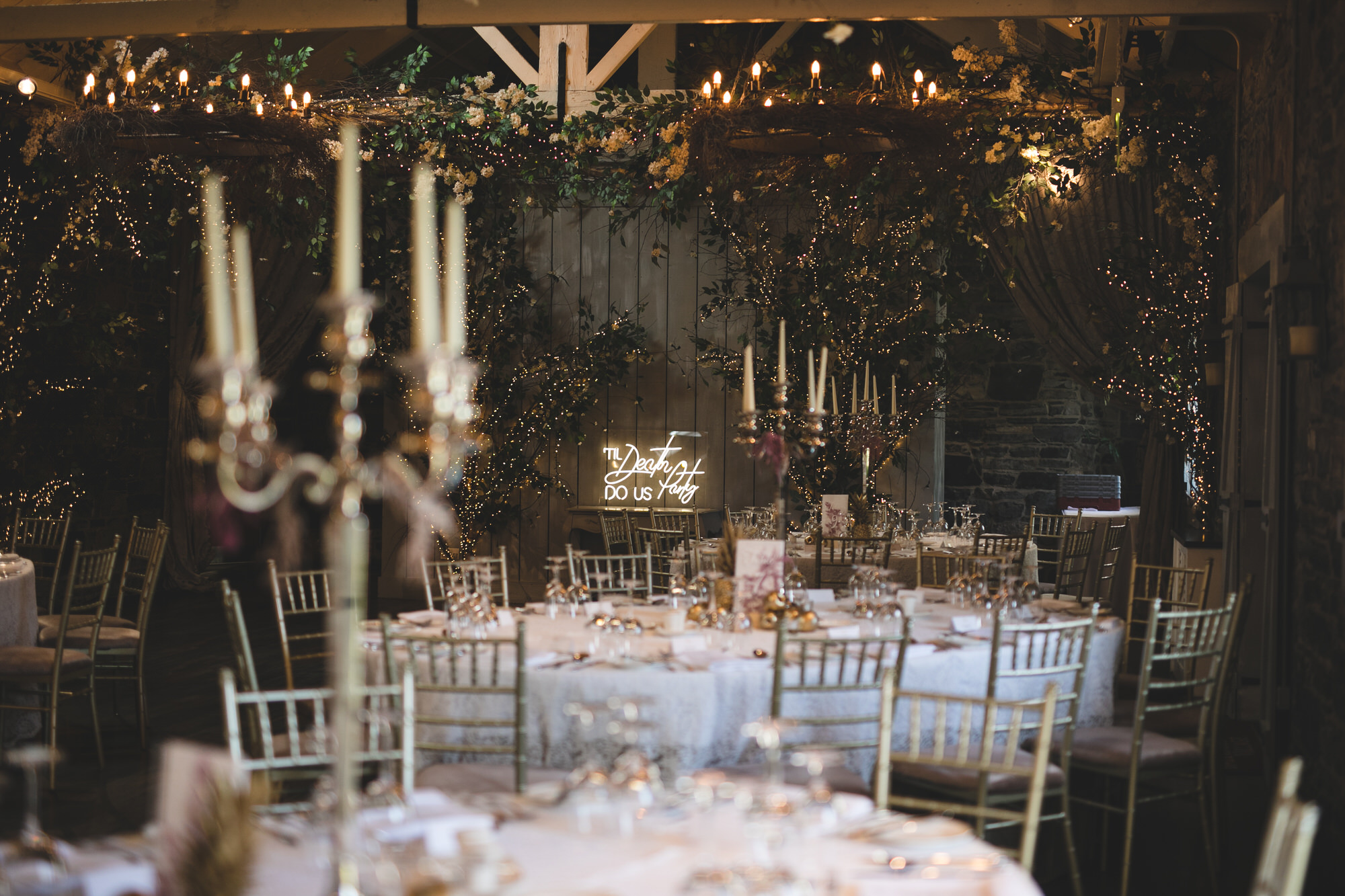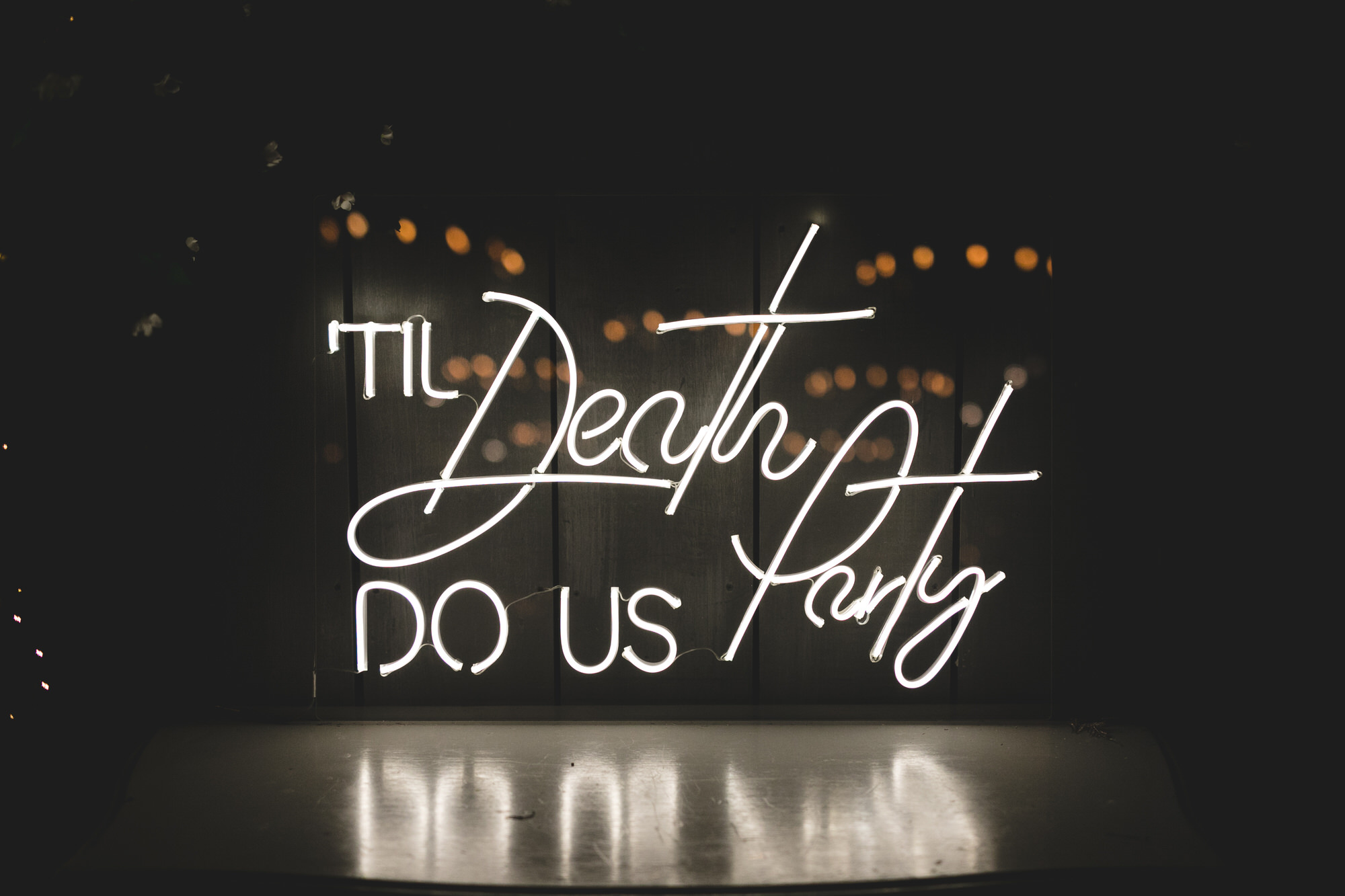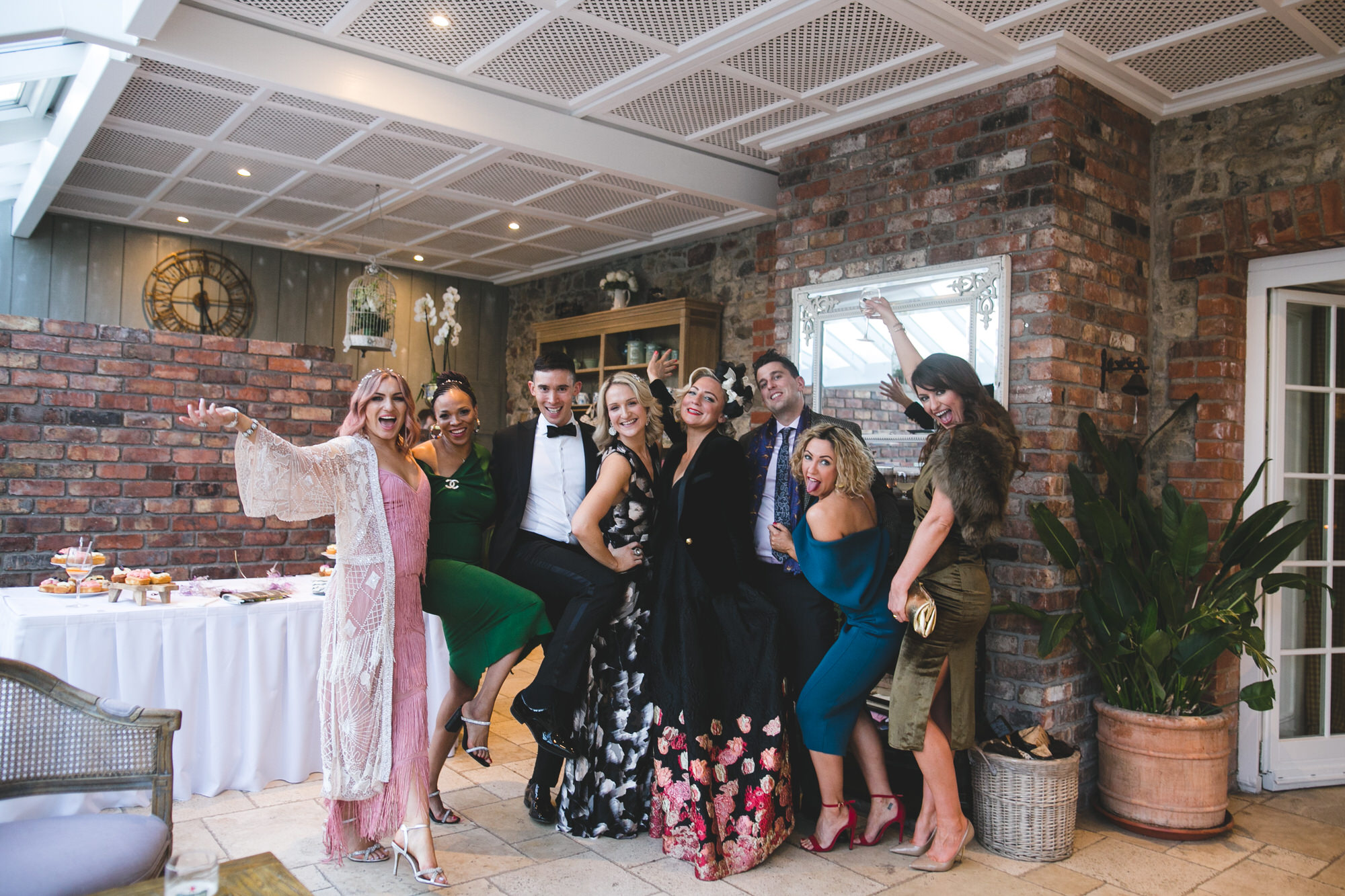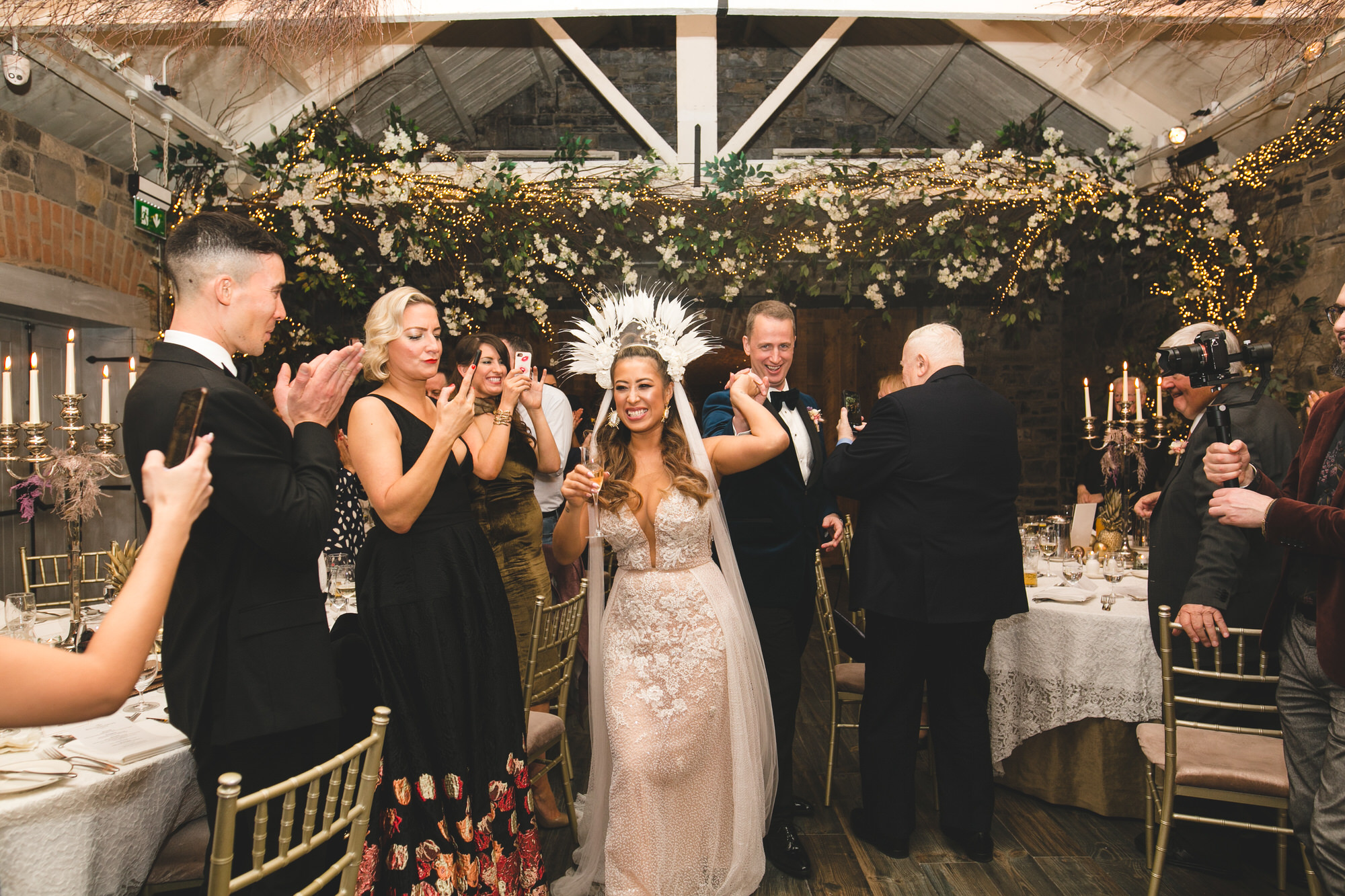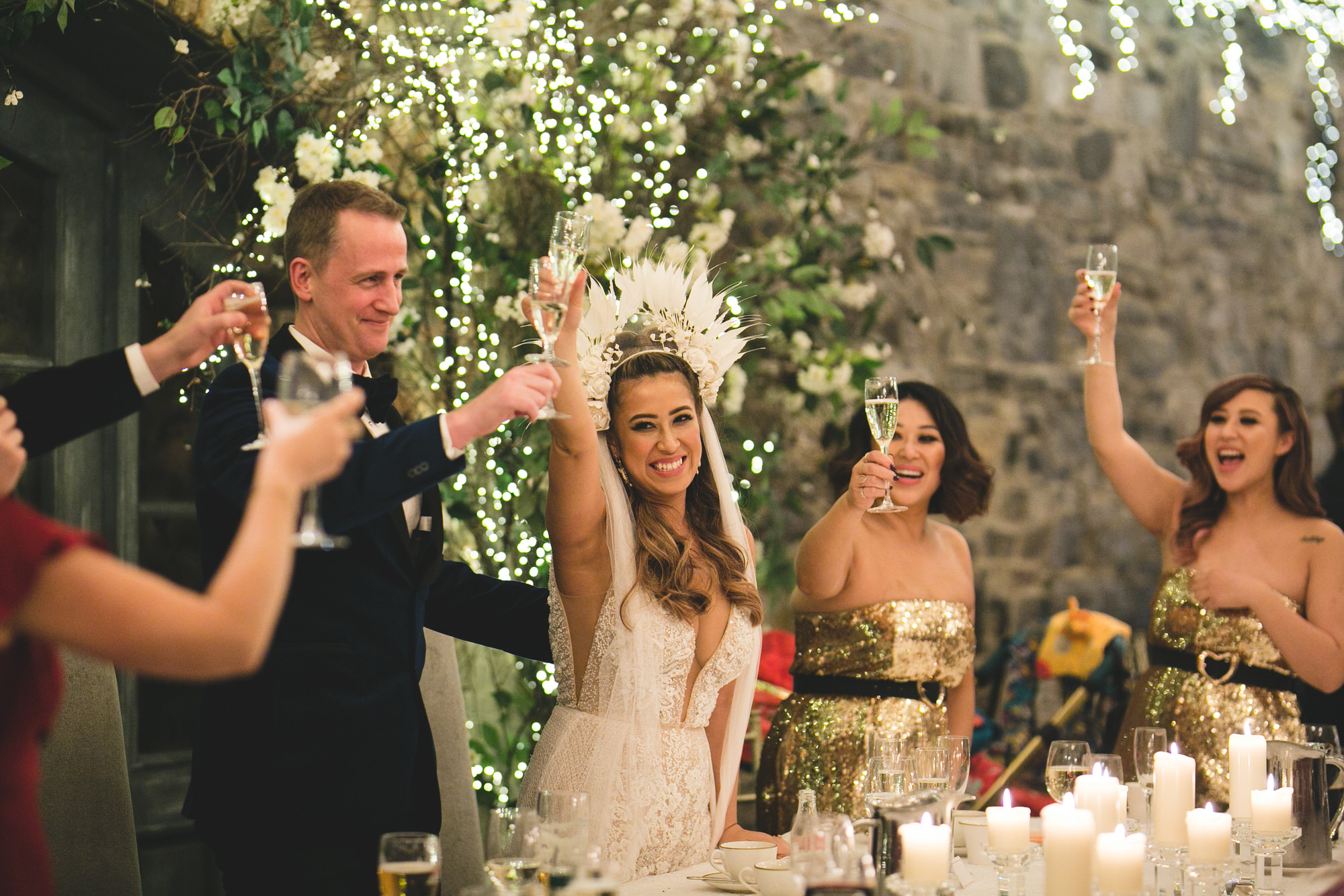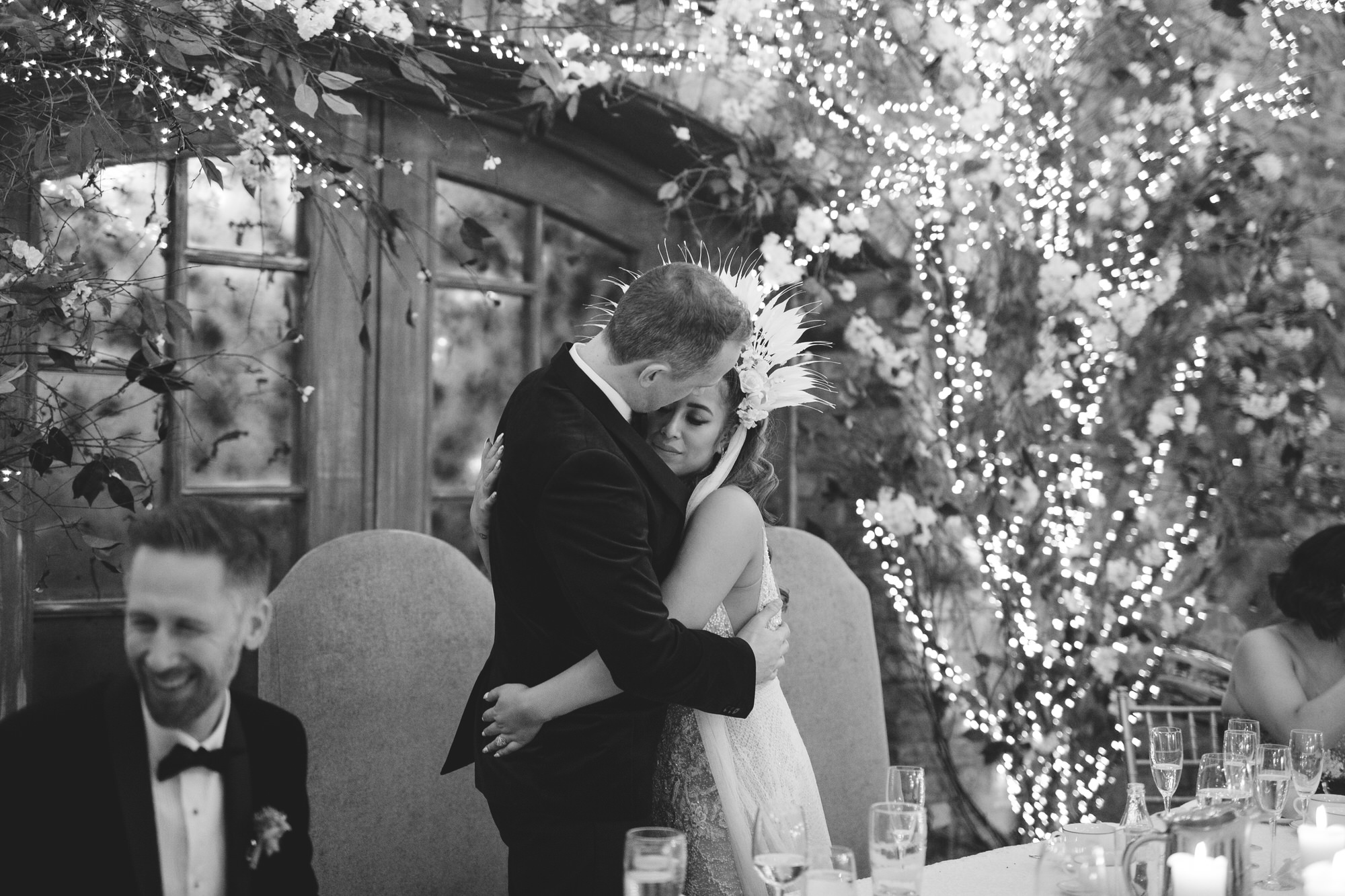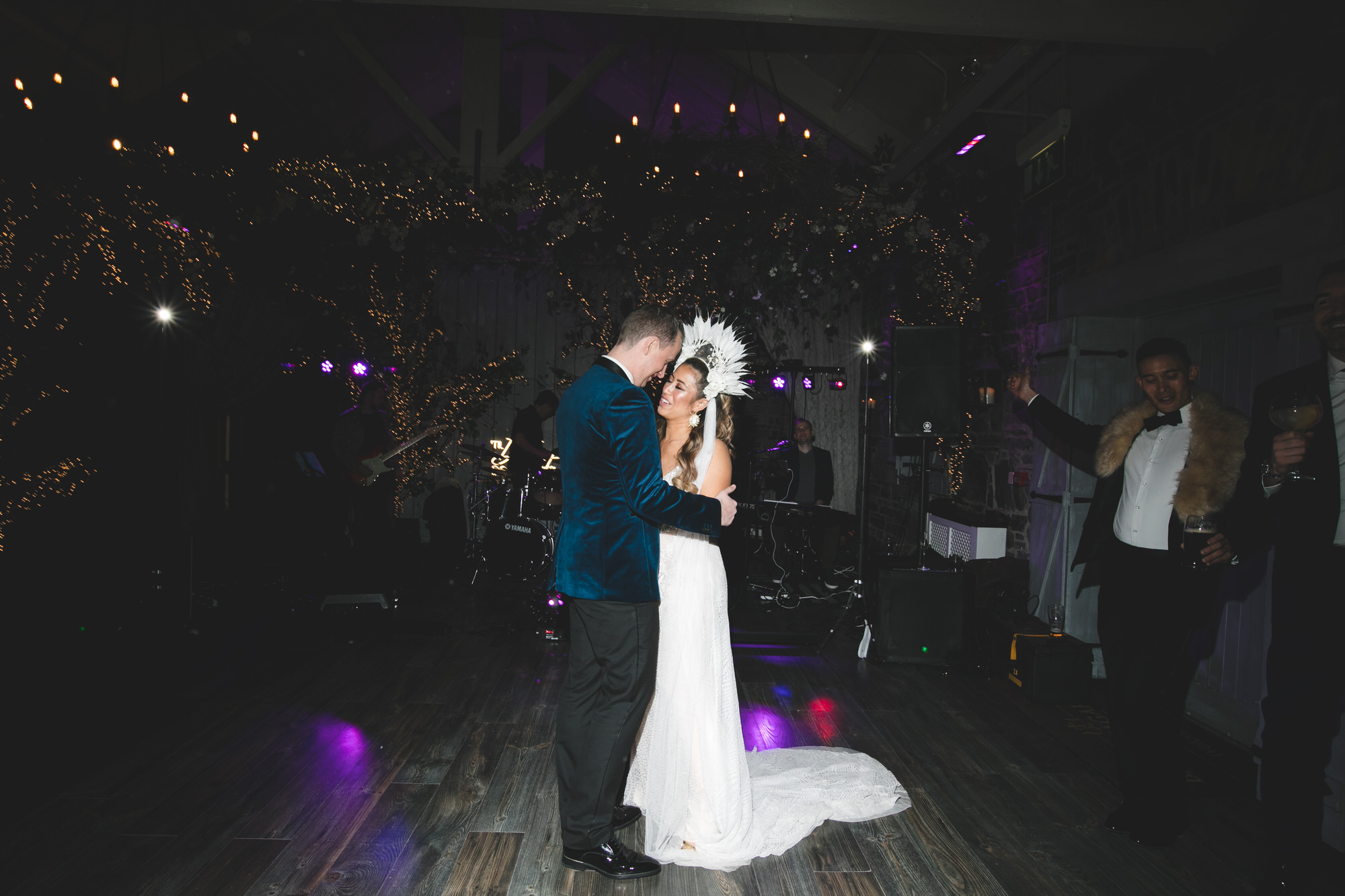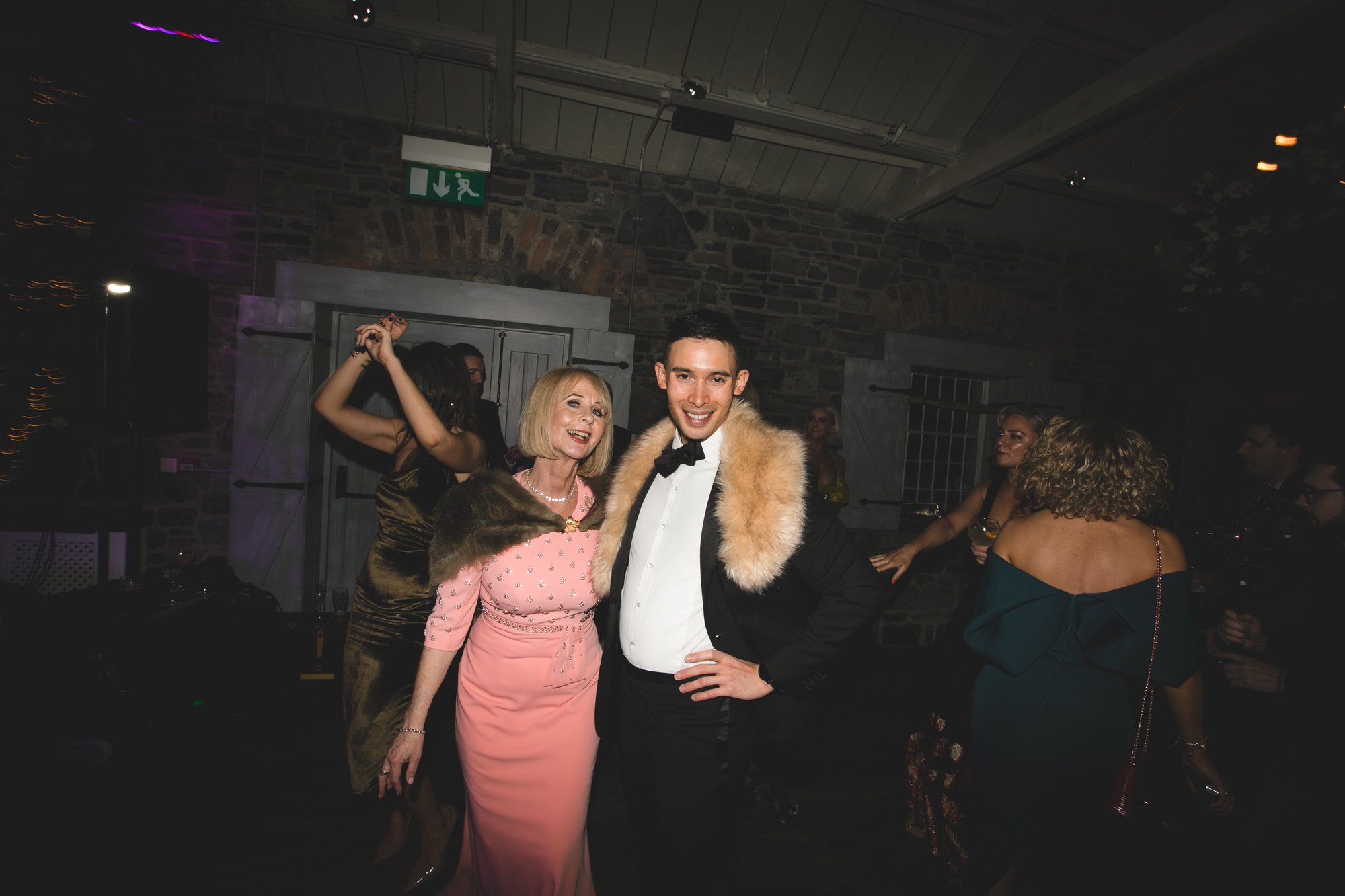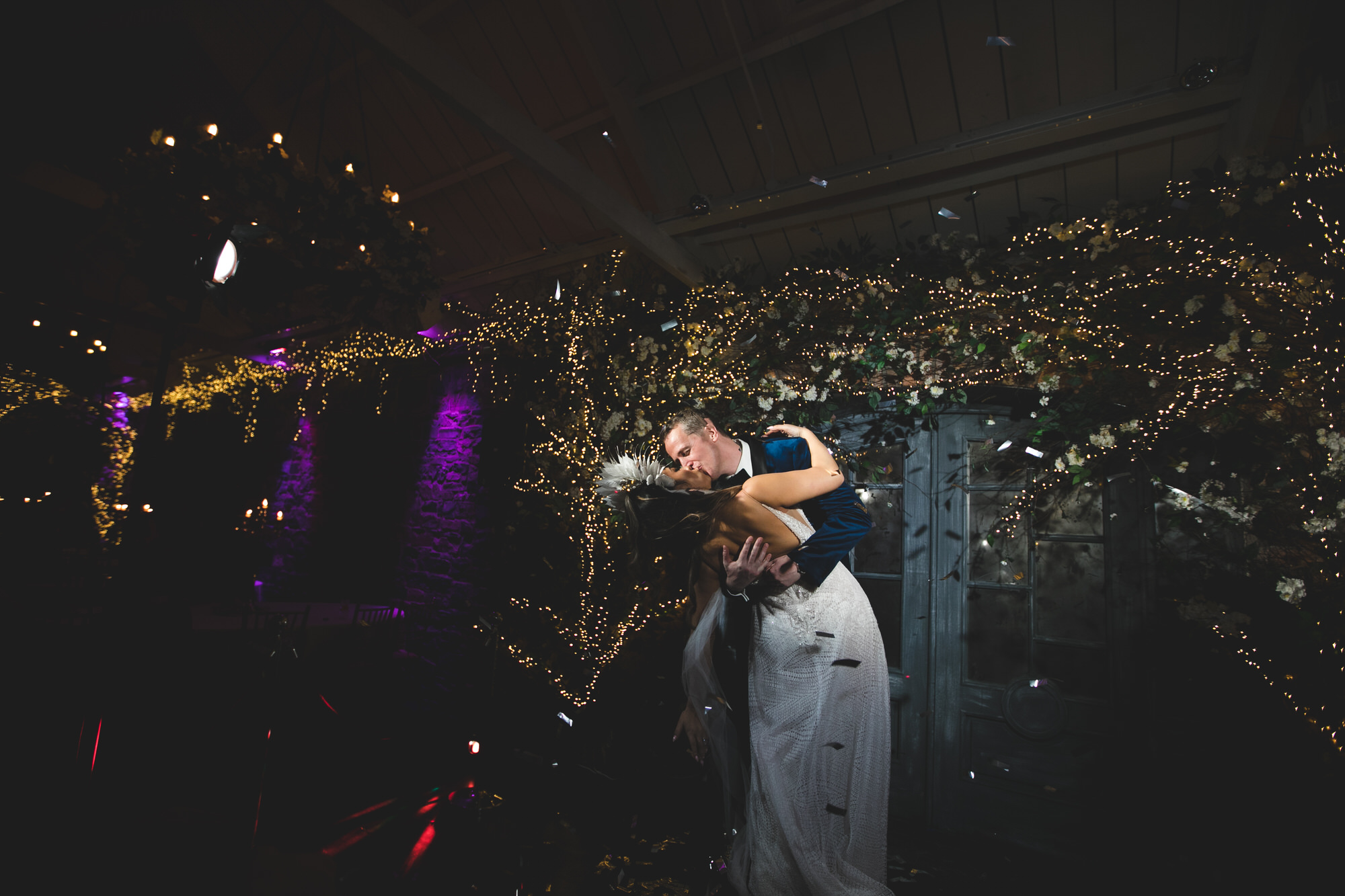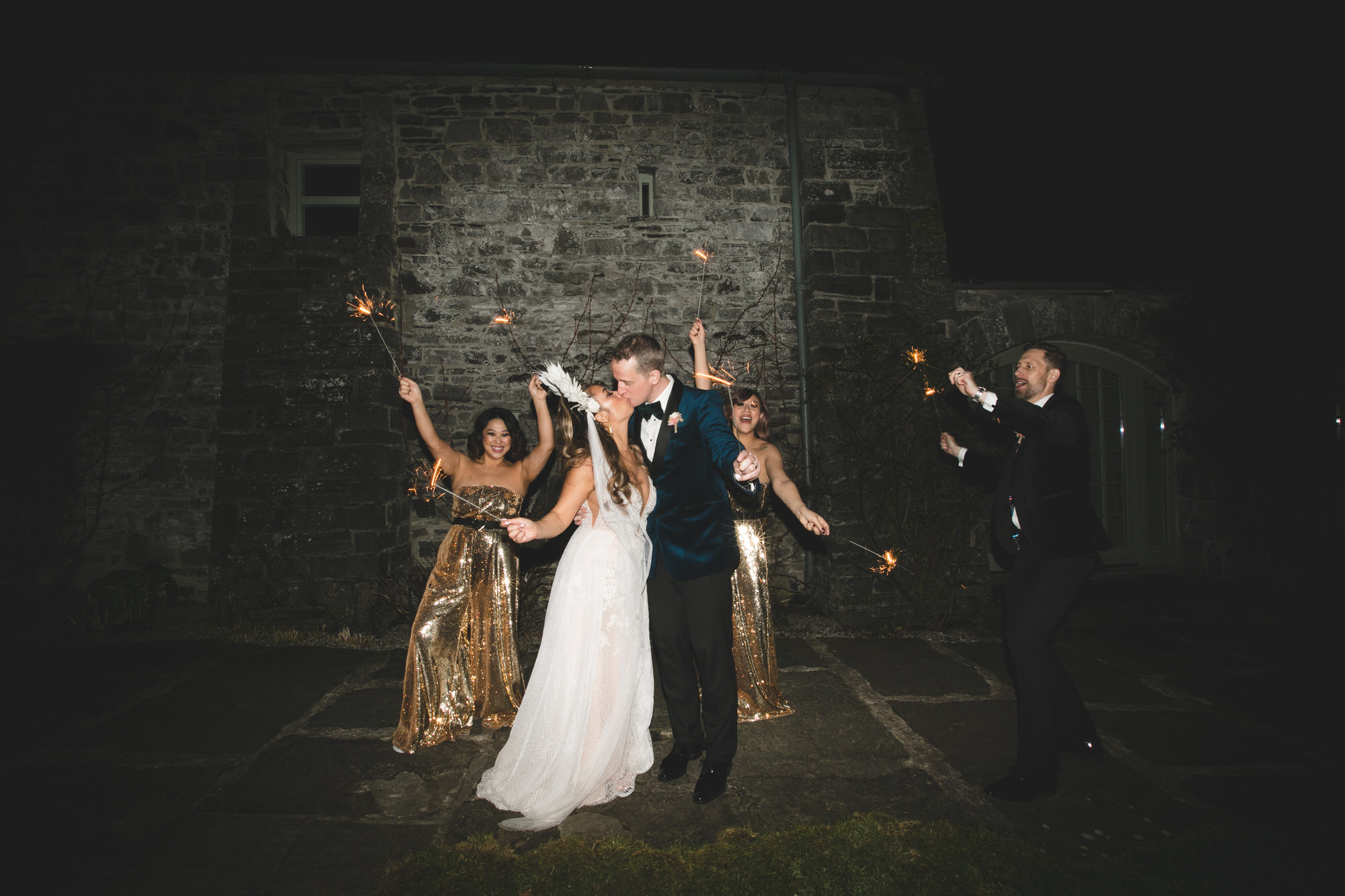 The Wedding Vendors
Alternative Wedding Photographer Dublin: Wild Things Wed / Caroline McNally. 
Videographer: Tom at VowArt.
Officiant: Humanist Celebrant Billy Hutchinson
Ceremony Venue: Ballymagarvey Village, County Meath
Shoes : D&G Runway Collection S/S '20 
Headpiece : Agnes Hart
Wedding Cape : This stunning cape actually comes from Topshop (unbelievable right).
Wedding Rings : Custom-made by Saint Mae 
Earrings : Irish Designer Finu. These Ave Maria earrings from their AW 20/21 collection.
Mens Watch : Vintage Rolex.
Hair: The fab Amy Rose from Brown Sugar

 

Make Up: Judy Wong, the bride's super talented sister.
Styling: Elk Stylist.
Cake: Laura Colhoun from Colhoun Creations. 
Groom's Outfit : Turquoise Crushed Velvet Jacket from M&S.
Bridesmaid Dresses: Gold Sequin Jumpsuits from ASOS.
Flowers: FullFlowers on Etsy.
Stationery: Digital Stationary @ AppyCouple

Band: Beat Boutique. 

DJ:  Gary, The Japanese Popstars
Other Entertainment: Dublin String Quartet (Ceremony & Reception)
Guest Book was a Polaroid station.
Transport: Devine Chauffeurs
Photo Booth: 3D Photobooth @ www.OhWow.ie
A little bit more about Amanda & Gareth, aka The Wongahues Ballymagarvey Wedding!
How would you describe your wedding theme?
We didn't have a theme really, we knew we wanted it to feel modern, a bit different and cool. We just wanted it to scream our personalities – so really that meant ensuring the details in our bride and groom outfits were on point. And our wedding party were cool versus "pretty". We wanted to the wedding to emulate who were as a couple – sparkly, fun, standout and epic!
What was the inspiration for your wedding?
We didn't have an inspiration, we just knew this "Ain't No Basic Wedding"! Lol. Everything I saw in wedding magazines – seemed so dated, traditional and old-fashioned. I wanted my wedding to be fun, fabulous & modern. We wanted to personalise as much of the wedding to who we were! I really love fashion, style and LOVE to stand out so brought my passion and knowledge in those areas to the wedding. My desire to be different meant I knew straight away there'd be elements of my wedding that I would want to be super stand out. In particular my personal style – I'm a sucker for sequins, sparkles, feathers, headpieces… basically everything festivally or anything EXTRA AF!! I wanted to channel "fabulous and fun modern goddess bride" (think Beyonce) versus that "traditional elegant bride" look which feels pretty dated and old. Finding something extra special or different for all the basic elements of the wedding became my focus. I used Pinterest and Instagram to build moodboards and funnily couldn't come up with a theme as I just loved so much out there!!! To be honest I didn't have a colour palette but just went ahead and created the wedding invites with tones of lavender, pinks and gold. Things just progressed from there!
Is there anything that you did that you think makes your wedding particularly unique, alternative or different?
I think the combination of all the small details coming together showcases the uniqueness – devil is in the detail! I booked my wedding venue in Ballymagarvey Village (a beautiful country estate manor) and it truly is DIVINE! Although the venue was perfect for the ceremony and reception just having wedding pics depicting a "fancy estate manor wedding" just didn't reflect who I am or my partner. So we made sure to think up a creative way to ensure we captured some special wedding day moments in Dublin City Centre! I'm born and bred in Dublin and I love it there! I wanted a chance to include some urban wedding pictures and we decided on a plan to take wedding pictures in the city centre in amongst the graffiti and the grittiness of some the streets before going to the wedding venue on the morning of the wedding. In fact once the venue was booked, the first thing I planned next was a wedding morning photoshoot so we could capture some intimate pics of us before heading up to Ballymagarvey for the day. Before I even found my wedding dress, bridesmaids outfits – or anything really I plotted my timeline for the day 🙂
Second most important thing was to find the right photographer and videographer  – it's KEY! I must have looked at the entire directory of all of the photographers and videographers in Ireland! Most are pretty "traditional" and a few that I discussed tried to discourage my idea of taking pics in Dublin before moving on to my venue the same morning! But then I came across Caroline from Wild Things Wed. Her portfolio is fab and really showcases her incredible style (which was a little bit of me & I fell in love with straight away)! She's quirky, detail driven and her personality is super sweet and enthusiastic! She met me for a coffee (bringing with her some of her work to show me) and I was trying to keep my cool by not telling her I'd already chosen her in my head after looking at her Insta-page (go have a look you'll know what I mean!). She embraced all my ideas (I basically unloaded all my ideas at her thick and fast) and also made great suggestions too! She really understood what I was trying to achieve and even offered to scout all the locations for the Dublin City Centre Shoot!
I wanted to stay in a really special hotel the night before and The Iveagh Garden Hotel https://www.iveaghgardenhotel.ie/ hit the mark and is just so lush. Decor and detail was delicious! We booked the Presidential Suite the night before the wedding and it was the perfect backdrop & surrounding to morning prep and pics!
Close friends of our Iain & Paul own a stunning 3 floor Georgian Townhouse in the heart of Dublin city and the house is like something out of an Interior Design Magazine. While drunk at one of their famous Christmas parties we asked if we could stop by their house to take some wedding pics and they generously agreed to have us! This is where some of the unreal pics are taken prior to arriving in Ballymagarvey (their secret bar is where the pic of me with palm tree wallpaper is taken, there are pics of Gareth and I inside one of their gorgeous Georgian bedrooms, a few in their library room and a few of us outside their home too)!!
What is the one thing you wish you'd know about planning a wedding before you began?
I wish I knew how much anxiety it would give me lol! Jokes aside it was more difficult than I thought it would be in some respects. It's a full time commitment and requires expert planning and execution!!!
Do you have any funny or significant stories about the day?
We told our photographer and videographer that we wanted to pop into a friends house to take some pictures but never told them what to expect. Both the photographer Caroline and Videographer Tom were gobsmacked by the interiors of the house!! It's literally a photographer / videographer dream!! Some of my favourite wedding pics were taken here!
Gareth got a hair cut two days before wedding and also got his eyebrows trimmed… he went to a local barber versus his usual in town (we were so busy in the run up to the wedding he thought it would be fine and it was closer to the house). He's had his hair cut by this local barber a few times but never his eyebrows trimmed. Gareth basically came home with no eyebrows 2 days before the wedding. We didn't know whether to laugh or cry! Luckily my sister is a professional make up artist and I took pictures to show her and she very lightly shaded in Gareth's eyebrows on the big day! So no one even noticed!!
What was your favourite part of the wedding?
I think my favourite part of the wedding was the morning! Getting ready with my sisters, mom and fiance and then doing a walking city centre photo shoot just the two of us was pretty special. Gareth's favourite part was when we had 5minutes in the secret garden with the sun shining down on us – just the two of us, right before he had to leave for  the ceremony.
In retrospect, was there anything you would have done differently?
Gareth would have liked to continue to have background music playing while the dinner was happening to keep a vibe going! Our dinner service felt long and although you could hear everyone chatting and laughing Gareth had actually curated a couple of hours of music to be played during dinner which he forgot to give to the wedding venue!!
Do you have any advice for future brides and grooms?
Gareth's advice is to try get your wedding pics all done before the ceremony so that it allows you the time back as a couple to mingle and enjoy the day with your guests 🙂
My advice is to try stick together as much as you can. You will get pulled in different directions for a lot of the day trying to say hello to and please your guests… but try and tackle everything together (including greeting and saying hello to guests) as much as you can! We took a moment out 5-10 minutes before the ceremony to sit together in the sunshine and I gave Gareth his wedding present (vintage rolex). After the drinks reception, our onsite wedding manager ushered all our guests to the dining hall and quickly placed us together with champagne and small nibbles in a private room to the side so we could take another 15-20 minutes together just the two of us before entering the dining!